French presidential contenders trade barbs over multiculturalism in TV debate
The 'burkini' emerged as a hot topic for Emmanuel Macron and Marine Le Pen.
The candidates in the French presidential election used a prime-time televised debate to take swipes at each other's policies over multiculturalism.
The centrist Emmanuel Macron accused Front National candidate, Marine Le Pen of alienating Muslims. He also said that the 'burkini' swimsuit which some Muslim women wear, was no threat to the country's secularism.
Some French resorts have banned the burkini before it was overturned by France's highest court.
Macron insisted that the issue was a "public order matter" and could be squared with the country's secularism. He also denied that he was in favour of the burkini and said Le Pen was using religion to sow division in the country, the Associated Press reported.
Socialist candidate Benoit Hamon described Le Pen's attitude as "sickening" after she said that schools were so dangerous that pupils had "fear in their stomachs".
Former Conservative front runner, Francois Fillon was on the receiving end of barbs over claims he paid his wife hundreds of thousands of pounds for work she never did. After Macron accused Le Pen of defamation, he said there would be justice in the same way there would be for "certain presidential candidates".
Le Pen had harsh words for the European Union, saying she did not want to be the "vice-chancellor of Madame Merkel".
"I don't want to be the salesperson for multinational or large group. I want to be president of the French Republic which respects article five which states the president guarantees national sovereignty and territorial integrity," she said.
Meanwhile, 39-year-old Macron made a virtue of his relative political inexperience, brandishing his credentials as an outsider.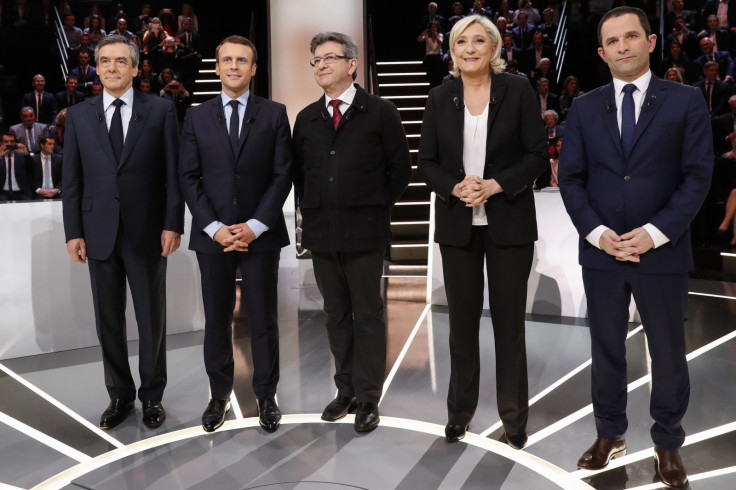 "As far as I'm concerned I'm not a member of the political establishment. I'm here because I've been working hard. I was a civil servant, a banker. I'm proud of having been a banker I became a government minister and I fought for what I believe in," he said.
Latest polls show almost 40% of the electorate do not know who they will vote for in the election which takes place over two rounds on 23 April and 7 May.
© Copyright IBTimes 2023. All rights reserved.