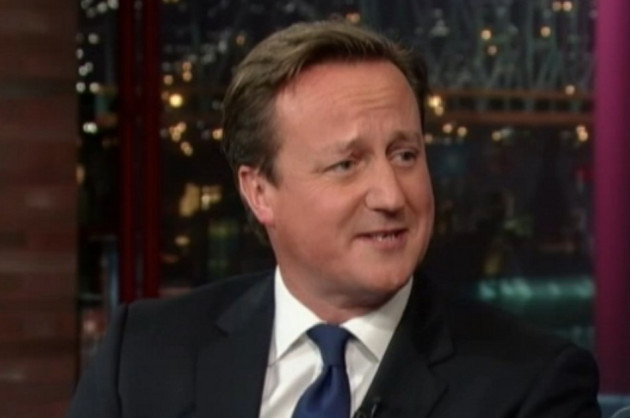 David Cameron appeared on one of America's favourite chat shows, the Late Show with David Letterman.
The prime minister became the first serving UK premier to sit in the famous seat to face the veteran interrogator.
Cameron followed in the footsteps of London Mayor Boris Johnson appearing in front of millions of US TV viewers in a bid to "bang the drum" for UK business and get Americans to visit Britain.
His performance was judged to be pretty good, or at least not a disaster by pundits - with the notable exception of UK history.
Letterman handed Cameron a pub quiz-style grilling about Britain - including the size of the population, the extent of the British Empire, Magna Carta and who wrote Rule Britannia.
Despite having an expensive education at Eton College to draw upon and a degree from prestigious Oxford University, Cameron flunked the final two questions.
As Letterman made him stew, Cameron said "you're testing me." The veteran broadcaster replied "it would be really good if you got this right."
For the benefit of the PM, Magna Carta is Latin for Great Charter. It is a cornerstone of the British justice system introducing concepts such as habeas corpus, which prevents jailing without charge. King John signed it at Runnymeade in 1215 following much arm-twisting by barons angered by the Crown's greed.
Cameron's appearance on the Letterman show was regarded by analysts as a 'high risk, high reward' move.
The benefit was being able to look normal to a huge audience on a mainstream show.
The downside was being at the mercy of a mischievous host with a brief to entertain viewers.
Other UK leaders have braved Letterman before Cameron, though never while in No10.
Tony Blair has appeared twice as a guest since leaving Downing Street. He faced questions about George W Bush's mental capacity.
Boris Johnson took the hot seat when he was on the promotional trail flogging a new book.
Letterman asked the shock-mopped London Mayor, "how long have you been cutting your own hair for."