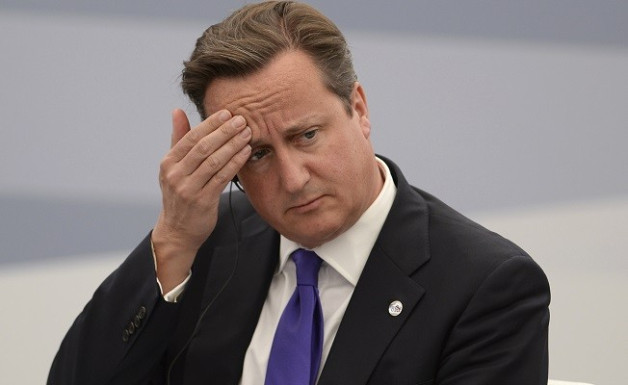 The Conservative message on the eve of the party's conference in Manchester is that Ed Miliband has made a strategic mistake with his "nuts" energy freeze, making it easy for David Cameron to paint him as an old-style socialist or the new Neil Kinnock. So why do the Tories appear so well and truly spooked?
The Manchester conference centre has been pitched to the public as the launching pad for a range of new policies, with the powerful selling point that, because they come from the government, they might actually be put into effect.
As the conference kicked off and Tory planners searched for a way to match Miliband's eye-catching proposal, plans to boost the housing market were rushed forward by three months, married couples were handed a long-predicted tax break and Cameron moved to woo Ukip voters and slap down some pretty firm red lines for any future coalition with the Liberal Democrats.
He denied having discussed a possible future deal with Nick Clegg but was far less clear over claims he and his team had planned for a LibDem-Tory coalition long before the 2010 election. If he did it then, why should we think he is not doing it now?
One of those new red lines was to rule out a mansion tax, or 'wealth tax', as he prefers to call it. This is an interesting line to draw, as it is one of the LibDems' core policies, so Cameron is telling Clegg (and has undoubtedly already warned him of this) that he just won't go there if the two are looking to make another post-election deal.
But a mansion tax is now also a Labour policy and Miliband will once again be able to trot out his line that Cameron stands up for the wrong people - namely millionaires and property speculators. If you want a mansion tax you will have to vote Labour or LibDem, who would clearly be able to do a post-election deal on this, at least.
Ukip sympathisers
Cameron, speaking on the BBC's Andrew Marr Show, went further. He insisted the High Speed Rail (HSR2) link must go ahead, he repeated his suggestion the energy freeze was "nuts" and vigorously denied his new homes policy would further fuel a housing bubble.
Under the plan, homebuyers will be offered 95% mortgages part-guaranteed by the Government, allowing some 200,000 people to purchase a house worth up to £600,000 with a deposit of just 5%.
In a bid to woo Ukip-sympathising voters and Tory MPs, he said he was open to the notion of pulling out of the European Convention on Human Rights and wanted a treaty renegotiation that would ensure Britain was excluded from those EU states looking for "ever closer Union".
It is Ukip and its charismatic leader Nigel Farage that hover over this conference and which the Tory leadership fears could deprive them of outright victory and even hand it to Labour in 2015.
The Independent newspaper reported that donors were abandoning the Tories for Ukip, a number of party members are pressing for a pre-election deal with Farage and he has been invited to speak at a conference fringe meeting, which is guaranteed to attract wide media coverage and a good attendance.
Cameron finally signalled that he was in favour of TV debates during the next election campaign but insisted they must only be with "people who have the prospect of becoming prime minister". Well that neatly rules out Farage, but wouldn't it also rule out Clegg? He also wants them earlier in the campaign so they don't distort it.
There will be a series of other announcements during the Manchester conference, which will climax with Cameron's big speech on Wednesday morning. The overarching theme will be the so-called cost of living crisis, with the Tories out to show they are on the side of ordinary working people.
This is also the ground chosen by Ed Miliband as a reaction to signs of growth in the economy, which have denied Labour the chance to claim that Tory Plan A has failed.
But, with his surprise energy freeze policy, Miliband has successfully seized the initiative over living standards, landing Cameron and the Tories with the significant challenge of coming up with something just as powerful.