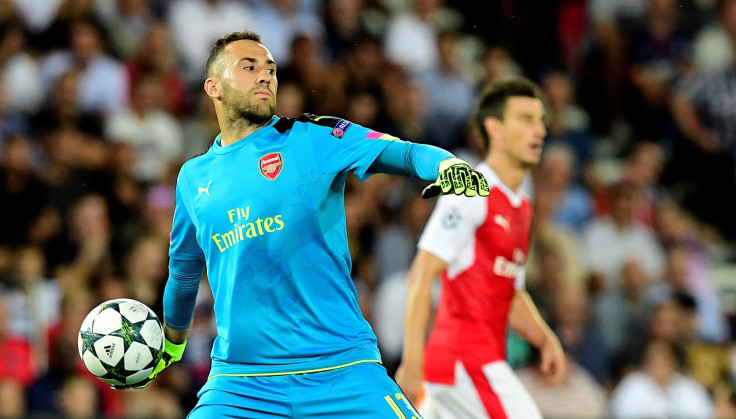 David Ospina is trying to take the most of his opportunities in the Champions League in a bid to establish as the Arsenal number one. Yet the Colombian is still unsure whether Arsene Wenger will keep him ahead of Petr Cech during the whole competition despite the fact he produced another impressive performance during the 6-0 victory over Ludogorets on Wednesday night.
The Colombian international enjoyed an impressive debut season in the Premier League back in 2014-2015 after beating Wojciech Szczesny to the No1 shirt. However, his playing time was restricted last season following the arrival of Petr Cech from Chelsea.
There was thus talk during the recent transfer window about his potential departure amid speculation linking him with Everton and a number of Turkish clubs.
However, Ospina eventually stayed at Arsenal to be part of Wenger's rotation policy between the sticks.
Cech has remained as the first-choice in the Premier League but the Colombian has been the No1 in the first three Champions League games of the campaign – while third keeper Emiliano Martinez also got his chance in the EFL Cup victory over Nottingham Forest.
Asked by IBTimes UK whether Wenger promised that Champions League role to stay at Arsenal during the summer transfer window, Ospina said: "That was the plan but is not definitive. Let's wait and see what happens (in the coming games of the Champions League)."
The 28-year-old keeper admitted that he snubbed other clubs to stay at the Emirates Stadium because he wants to establish himself at Arsenal.
"There have always been things (with other clubs). But my present is at Arsenal. I still have contract here. I want to establish myself here. There is a healthy competition with great goalkeepers and I will wait for my chance," he said.
The keeper has taken all the opportunities in Europe with both hands, having only conceded one goal in three games, during the Champions League 1-1 draw with Paris St Germain.
"I am happy. The team is in a good form and I am trying to seize my chances. My idea has always been to play but there is a healthy competition. We all want to play. I got a chance (against Ludogorets) and tried to take the most of it," he said.
"One always would like to play more regularly but I have to be prepared, training hard for my opportunities. This (the rotation between Cech and him) is the situation right now and I try to use it in the best way."