Santi Cazorla hoping to recover for Arsenal vs Middlesbrough despite injury scare against Ludogorets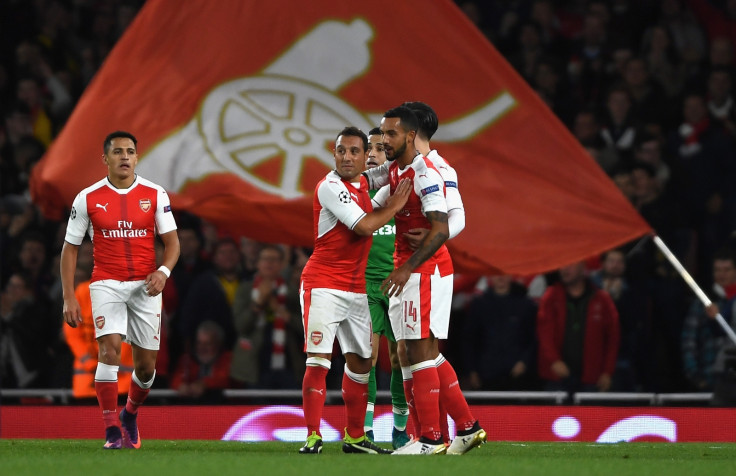 KEY POINTS
Spaniard got a kick in his Achiles tendon during the first part of the Champions League game.
31-year-old star continued playing before being replaced in the 57th minute.
Santi Cazorla is hoping hoping to be ready for Arsenal's home game with Middlesbrough on Saturday (22 October), despite being forced off with an injury during the Champions League 6-0 victory over Ludogorets. Speaking with IBTimes UK after the game, the Spanish playmaker confirmed he had received a painful knock to his Achiles' tendon, but expects to use the next 48 hours to recover ahead of the visit of Aitor Karanka's side.
The 31-year-old midfielder was sidelined for the second part of last season due to a serious knee injury. However, he has regained his best form during the opening part of the new campaign and become an immovable object in the middle of the park for Arsene Wenger.
The former Malaga and Villarreal playmaker had another impressive performance against Ludogorets to help Arsenal secure their seventh victory in a row, providing the fourth goal of the game with an assist for Mesut Ozil. However, in the 57<sup>th minute he left the pitch, limping out to be replaced by Mohamed Elneny.
Wenger revealed in his post-match press conference that the playmaker had suffered a knock in the his Achilles tendon
"He got a kick and I took him off as quickly as possible. He got a kick on the back of his Achilles tendon. In my view he was limping a little bit so I didn't want to take a gamble," Wenger said.
The news set alarms off at the Emirates Stadium as the club will be without Cazorla's partner Granit Xhaka for the game against Middlesbrough due to suspension.
However, speaking with IBTimes UK after the game, Cazorla himself suggested the substitution was only a precautionary measure and he expects to be available to face Middlesbrough.
"I have a pain in the tendon. I got a kick in the first half and during the second I still had some pain so, with the result in our favour, the boss decided to give me a rest. It was good to recover for Saturday," Cazorla said.
Asked whether he believes that rest will be enough to recover in time for Boro, he added: "Yes, yes. I hope so. I have to be ready to play."
Despite his positive demeanour, it is expected the Spaniard will undergo some tests to address the issue before Wenger makes a decision on whether to use him against Middlesbrough.
Cazorla also expressed his delight over the victory, which means Arsenal remain at the top of their Champions League group, ahead of Paris Saint-Germain on goal difference.
"We are happy for getting another three points. It's clear that we will have to fight for first place with PSG. They are a great team, but we are happy with our work so far," Cazorla added. "We played a great second half but the first was more difficult because they also did well. I liked their philosophy. They always want to play the ball and have quality players upfront. Now our aim is to recover well for the game against Middlesbrough. We want to extend our good run. We cannot relax."
© Copyright IBTimes 2023. All rights reserved.