A member of the Anonymous hacking group has taken down the website of the US Department of Justice with a Distributed Denial of Service (DDoS) attack.
Following a similar attack on the CIA website, which had reportedly been offline for 45 minutes, Brazilian hacker Havittaja launched an assault on the department's homepage.
On Twitter, he claimed responsibility for the DDoS, saying it was done for the "lulz", which refers to the popular online abbreviation "for laughs".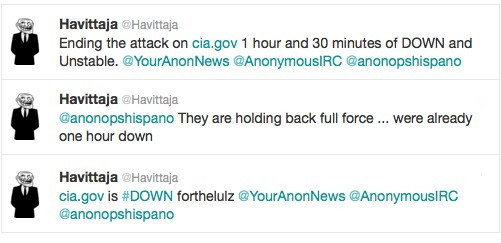 The collective targeted the department of justice in January as part of Operation Megaupload, in a retaliatory attack against the US government's decision to close the popular file-sharing site.
Along with the Department of Justice, Anonymous launched a DDoS against the FBI - the largest attack to date.
Hacktivists have hit the CIA website twice before. In June 2011, LulzSec, an offshoot of Anonymous, temporarily brought down the agency's homepage.
Hackers affiliated with Anonymous launched a "Tango down" of the CIA site in February 2012, taking it offline for several hours.
Five hacktivist member of Anonymous offshoot Lulzsec were arrested in March by law enforcement officials in Europe and the US, who acted on information leaked by the group's prominent leader, Hextor Xavier Mensegu, called Sabu. LulzSec is allegedly responsible for billions of dollars in damage to governments, international banks and corporations through coordinated cyber-attacks.
Sabu was unmasked by the FBI in June 2011 and turned informant for the federal government to avoid jail after pleading guilty to computer hacking, fraud and identity theft.
Following the revelation that Sabu had turned on LulzSec, Anonymous remained defiant, posting a statement promising to "fight on".
Though the two are closely linked, the LulzSec group is separate to the larger Anonymous collective.
LulzSec started operations in 2011 with a more anarchist ideology, targeting random organisations and companies "just for lulz". Anonymous portrays itself as a hacktivist collective, picking its targets for perceived crimes against the world.
For further news on Anonymous's recent activities, check out the IBTimes UK Cyber Warfare section.