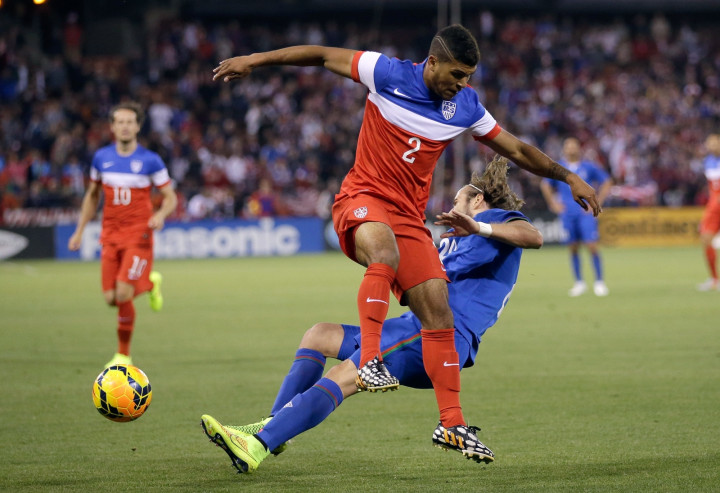 Seattle Sounders and United States defender DeAndre Yedlin has been advised against joining Tottenham Hotspur this summer despite interest from the Premier League club.
Yedlin was one of the breakout stars of the World Cup, making three appearances in Brazil against international heavyweights Portugal, Germany and Belgium.
The 21-year-old's impressive performances have attracted interest from Tottenham, who are searching for low-cost additions this summer following last year's spending spree which accompanied Gareth Bale's departure.
The USA youngster would likely provide competition to Kyle Walker and Kyle Naughton at right-back in the Tottenham first team this season under new manager Mauricio Pochettino.
However, following the failure of a number of new additions from last season, ex-Tottenham goalkeeper Kasey Keller believes a switch to White Hart Lane would be the wrong move for the Sounders full-back.
"Spurs is a tricky place to play," Keller told Goal.com. "They're a team that has a lot of turnover in players. Spurs are a team that has the money, and they are always looking for a bargain, but it's a tough place to go.
"I just want to see young American players play regularly, week in and week out. If that's at Tottenham, great. But if it's not, then it's not the right move. It's hard to develop if you don't play.
"I'm not sure DeAndre would even qualify for a work permit. He's never started a game for the national team, [England] is a tough place to get a work permit.
"My guess would be that if Tottenham is in the race, it would be to sign DeAndre and loan him out somewhere."
Spurs have made three new additions this summer, with Ben Davies and Michel Vorm joining from Swansea City while Eric Dier became the latest signing from Sporting Lisbon last week.
Chairman Daniel Levy has already played down the club making significant changes this summer despite their failure to qualify for the Champions League last season, with a move into a new stadium on the horizon in 2017.