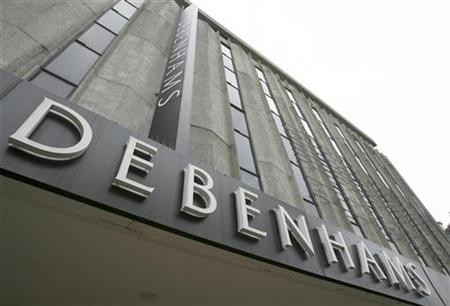 Shares in Debenhams were up on the FTSE 250 in morning trading after the retailer said it expected pre-tax profit in the first half year ended 26 February to be ahead of the previous year and in line with market consensus.
The group said that like for like sales including VAT were flat on the previous year, but added that excluding VAT like for like sales were down 1.5 per cent. Gross transaction value in the half year period increased 3.2 per cent from the previous year.
Debenhams said that its Magasin du Nord business had seen a rise in like for like sales of 3.9 per cent.
Group pre-tax profit for the half year period is likely to be up from the previous year thanks to higher margin and a lower interest charge offsetting the cold weather at the end of 2010.
Debenhams net debt at the end of the first half is expected to stand at around £350 million, down from £510 million a year ago
Rob Templeman, Chief Executive of Debenhams, commented, "Our performance in the first half has been pleasing given the difficult trading environment. Our strategy of increasing own bought sales, as well as focusing on profit and cash generation, has again delivered margin gains despite the significant headwinds being experienced in the clothing sector supply chain.
"Looking forward, it is clear that disposable income is under pressure from inflation, public sector spending cuts and higher taxation. As a result, trading across the UK high street is likely to be difficult in the second half of the year. We will continue to pursue the self-help measures we have been working on over the past two years - driving market share and cash margin through own bought product ranges, increasing multi-channel access points, improving the instore environment through refits - which will be beneficial to the business whatever the trading environment."
By 10:50 shares in Debenhams were up 4.26 per cent on the FTSE 250 to 61.20 pence per share.