Air strikes on a Red Crescent aid convoy that killed 12 could constitute a war crime, the International Committee for the Red Cross (ICRC) has said.
A spokeswoman for the international medical organisation told IBTimes UK that while it would take time and legal work to establish whether the attack on the convoy constituted a war crime the ICRC would not rule out the possibility.
"What needs to be determined is if there is intent behind the attack. If there is intent behind the attack then it could amount to a war crime but it would really be up to the courts to decide. If it is proven that this was a deliberate attack then it would in that case amount to a war crime," she said, adding that there could be other mitigating factors.
The majority of those killed in the attacks on 19 September over a rural area in Aleppo province reportedly by pro-Assad warplanes were truck drivers and Red Crescent workers.
The UN's aid agency has condemned the bombings. Spokesman Jens Laerke of OCHA said it was "a very, very dark day... for humanitarians across the world." The international organisation has suspended all convoys travelling into Syria.
The ICRC has however said it will hopefully resume sending aid into Syria in a matter of days. "We are not suspending our activities. We have postponed one of our convoys but it is just a postponement. But we are hoping to send that convoy in the coming days," the spokeswoman said.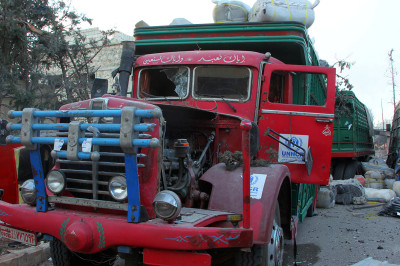 It has not been established whether Russian or Syrian planes were responsible for the air strikes. The UN has said the Syria government had given permission for aid convoys to proceed inside Syria.
The Kremlin has announced that it is making inquiries into the reports of the destruction. Reuters quoted spokesman Dmitry Peskov as saying the situation in Syria was "of great concern".
A six-day ceasefire between combatants in Syria has all but evaporated. The US had said it would be willing to extend the ceasefire despite renewed fighting on both sides. The Syrian military has declared the truce a failure and further bombing missions have been carried out over eastern Aleppo, where the aid trucks were supposed to relieve humanitarian suffering.
The White Helmets, a group of emergency volunteers in Syria, posted images of a number of vehicles in flames and a video of the attack showed huge balls of fire as they responded to the casualties.