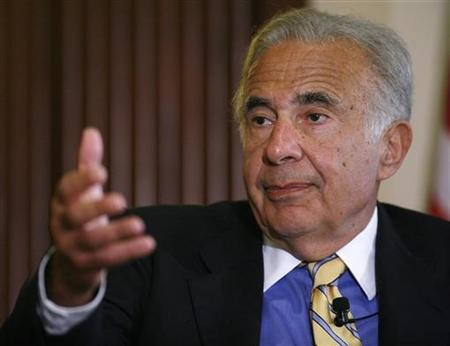 Activist investor Carl Icahn and Southeastern Asset Management have joined forces to counter a buyout offer for PC-maker Dell, according to media reports.
CNBC and The Wall Street Journal report that the billionaire investor and Southeastern, currently the largest shareholders in Dell, have come up with an alternative to the $24.4bn (£15.7bn, €18.6bn) offer prepared by Dell founder Michael Dell and private equity firm Silver Lake Partners.
Citing correspondence to Dell's board, the Journal said that Icahn and Southeastern suggest giving Dell shareholders the option to keep holding stock in the company and take an additional $12 a share in cash or stock.
In February, Michael Dell and Silver Lake agreed to buy out the company at $13.65 per share. Icahn, Southeastern and several other large Dell shareholders, who opposed the scheme saying the consideration was very cheap, were campaigning to block the deal.
Michael Dell and related parties own a 16% stake in the company, while Icahn and Southeastern together hold 13%.
"You now have the opportunity to ameliorate the damage that we believe you have caused to Dell and its shareholders by following the fair and reasonable path set forth in this letter," Icahn and Southeastern President G Staley Cates wrote in the letter to the board.
The vote on the Silver Lake-led deal is hard to predict due to the opposition from some shareholders to the structuring of the voting, the WSJ added.
The company's board structured a vote to exclude Michael Dell's shares, and it will count shareholders who do not vote as "no" votes against the deal. The transaction requires the approval of a majority of shareholders, excluding those held by Michael Dell, and other Dell management or board members.
Earlier in April, private equity firm Blackstone moved back from its attempt to block the deal with a counter proposal that keeps a part of the company public.