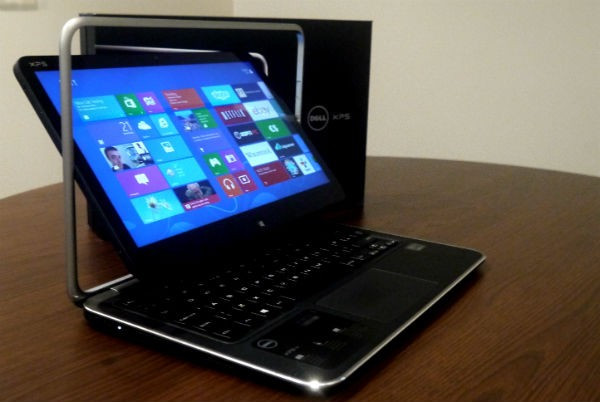 Key Features:
Rotatable display

12.5in, 1920 x 1080 resolution touchscreen

Intel Core i7 processor with 8GB RAM

256GB SSD

Windows 8 Pro

1.54kg, 20mm thick

Price as Reviewed: £1,299
Introduction
Back in 2010, Dell introduced the world to the Dell Inspiron Duo, a netbook which featured a rotatable screen which meant it could be used as a tablet when the lid was closed.
It was an interesting idea, but some serious flaws meant it was never going to be a best seller.
The most serious flaw? Windows 7. The operating system was never designed to be used with a touchscreen and so after the novelty factor wore off, the Inspiron Duo became a very frustrating device to use.
Fast-forward two years and the launch of the touch-focused Windows 8 has seen Dell take another look at the form factor, this time in the shape of the Dell XPS 12 Ultrabook.
Dell XPS 12: Design
When closed, the Dell XPS 12 looks like a slightly chunky Ultrabook. It is an attractive mix of aluminium and carbon fibre and unless you looked very closely, you would be unlikely to spot the surprise waiting inside.
I'll get to the rotatable screen design and mechanism in a while, but first, a few word about the general design of the laptop.
With its mix of black carbon fibre and aluminium trim, the XPS 12 is very reminiscent of Dell's previous Ultrabook, the XPS 13. It's not a design choice which will be universally loved, but for me, the combination works.
The soft-touch finish on the palmrest, touchpad and keyboard feels comfortable to use and while the aluminium trim might look a little bit tacked-on, it does provide a nice contrast.
At 20mm thick at its chunkiest, and 1.54kg in weight, the XPS 13 is slightly thicker and heavier than most Ultrabooks but thanks to Intel failing to give anything like definitive specification limits for its Ultrabook platform, Dell can get away with it.
Considering the laptop does include a rotatable screen, I'm willing to give it the benefit of the doubt.
As a laptop it is very portable and although not the slimmest Ultrabook on the market, it will still be plenty slim for most people.
As a tablet however, it is not very portable. I can't see many people whipping an XPS 12 out on the Tube to read an ebook, or read a newspaper.
However as a tablet to use on the couch at home or in bed, then its large screen becomes a positive rather than a negative, making web-browsing (as long as you are using the touch-enabled IE10) and watching video a real pleasure.
Dell XPS 12: Rotatable screen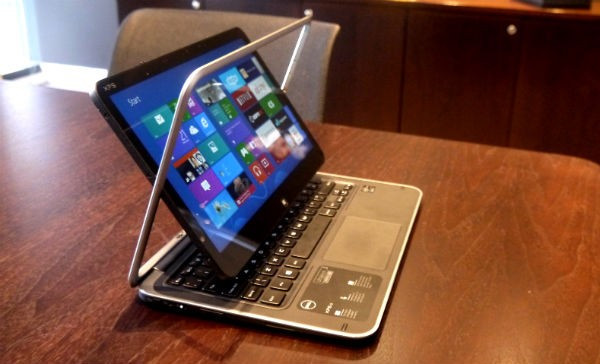 And so to that screen. Encased in the slim lid of the laptop, the 12.5in Full HD screen can rotate through 180 degrees to allow you use the XPS 12 as a tablet when closed.
Dell should be congratulated for building such a sturdy mechanism. While you are still naturally careful every time you rotate the screen, it never felt flimsy or weak during testing.
To flip the screen, all you need to do is push gently in one of the corners. With the laptop open a gentle push on the top left or right corner will activate the mechanism. A similar push from behind on the bottom corners will have the same effect.
Fluid yet firm, the screen rotates through 180 degrees and snaps satisfyingly into place with the help of the magnetic lock mechanism.
You do have to be careful you have enough room behind the laptop before flipping the screen as a couple of times I've caught the screen on a cup or a keyboard while rotating it.
An unavoidable issue, but one which does annoy at times, is the slight gap between the screen and the aluminium bezel. Obviously there to allow the screen to do its thing, I noticed several times that if there was a strong light directly behind the laptop, the light leaking in could be very distracting.
The screen itself is superb. With a resolution of 1920 x 1080 the XPS' IPS panel is stunning. It is bright (400 nits of brightness), crisp and sharp. Whites are white and blacks are blacks.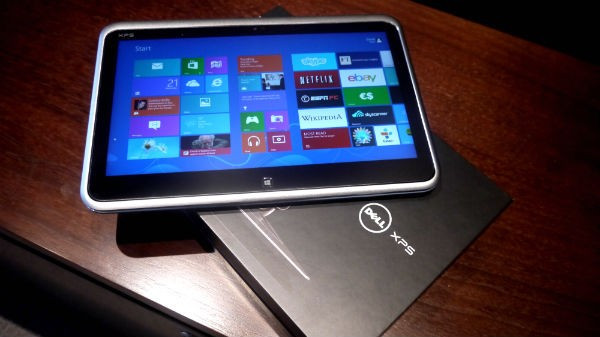 Contrast is good, colours are vibrant and viewing angles are great.
BUT, and this is a pretty big but, because of the high resolution, touchscreen buttons are smaller, particularly in legacy Windows 7 apps, which makes it tough to navigate at times - despite the screen being really responsive.
Another issue is that reading text at native resolution means I was straining my eyes a lot of the time.
You can of course lower the resolution, 'Make Everything Bigger' and change the DPI of the text and icons in the Settings, but this makes everything a little fuzzy and seems like a waste of a good screen. Essentially this is Microsoft's issue rather than Dell's.
In tablet mode, I found the screen to be particularly suited to watching videos, and with the good viewing angles it means more than one person can watch it at once.
Below the screen sits a physical Windows button, which like the Home button on the iPad, bring you back to the start screen. It does feel a little on the flimsy side, though, but I had no issues with it during testing.
Dell XPS 12: Keyboard & Touchpad
The backlit, chiclet keyboard of the XPS 12 is one of its best features. Again reminiscent of the XPS 13 keyboard, the large, chiclet keys are nice and responsive, with good tactile feedback and just about enough travel - though we could have done with a little bit more.
They also have a nice scooped design which aim to make typing more comfortable.
The layout is pretty standard laptop fare, though as this is a laptop designed with Windows 8 in mind the old Windows Start menu shortcut key has been replace with the new logo, giving you one-button access to the start screen. The back-lighting is also bright and responsive.
One issue I did have was with the top row of function keys. I would have preferred not to have to press the function button to access the volume, media playback, brightness and Wi-Fi controls.
The touchscreen keyboard is also decent, particularly if you are typing with two hands. There are options to change the layout of the keyboard including split keyboard for two thumb typing and the option to input text using a stylus, which works pretty well.
The Cypress touchpad on the other hand was not good. It was not very responsive, and we were unable to get mutlitouch gestures - except for pinch-to-zoom - to work on it. There is clearly an issue with the touchpad's software, but I was unable to find a fix for it on the Dell website.
Dell XPS 12: Connectivity
The XPS 12 does not come with great connectivity. It lacks both HDMI and SD card slots which are serious omissions on a high-end laptop in my opinion.
You do get two USB 3.0 ports and a mini DisplayPort, along with a combination headphone/microphone jack. Adapters for HDMI and Ethernet are available for around £15 each but it would have been nice if these had been included as standard. The lack of an SD card slot will be a deal breaker for some.
Wireless connectivity is supplied by Wi-Fi N and Bluetooth 3.0.
Dell XPS 12: Performance
With a Core i7 processor, 8GB of RAM and a 256GB flash drive, it is no surprise that the XPS 12 is a powerful machine.
The standard basic setup features a Core i5 processor, 4GB of RAM and a 128GB SSD, but even with these lower specs, it should be able to handle most of what you throw at it.
As you can see in the NovaBench test result, the XPS 12 comes in only second to the latest MacBook Pro, which is nothing to be ashamed of. Boot time is also decent at under 10 seconds and it restarts from sleep in less than five seconds.
Playing back HD video was flawless, even with multiple tabs open on Internet Explorer 10, a Twitter app going and downloading a large file from the internet.
The only issue we did have was with noise. The laptop's fans seem to kick in even when under a relatively light load, and can get pretty loud when they really get going. It's not a huge problem, but considering it happens quite regularly, it can become annoying.
While it won't win any awards, the Dell XPS 12's battery life is still decent. I managed to get just under six hours of general use out of the laptop, though that did include playing some HD video and streaming video from the net, both of which seemed to drain the battery a lot.
I suspect with some prudent settings (lowering the brightness of the screen etc) you may be able to get a full day's work out of the XPS 12.
Dell XPS 12: Verdict
The XPS 12 is an intriguing proposition. It reflects perfectly the duality of Windows 8, which combines the touch-centric Modern UI with the traditional desktop environment.
The XPS 12 combines a powerful laptop with a 12.5in tablet.
As a tablet it is too big to carry around but offers a superb experience when browsing the web or wathcing a film from the comfort of your couch.
As a laptop it provides a full-featured and powerful Windows experience with a great keyboard and decent battery life, though it is let down by a poor touchpad and limited connectivity.
In terms of value, the version with the Core i7, 8GB of RAM and 256GB SSD which we were using costs £1,299 with versions with lower specs available from £999. This is expensive, even for an Ultrabook, but considering you are getting a laptop and a tablet in one, it represents pretty decent value in my opinion.
Once you get past the XPS 12's party piece, and look at it objectively, I think it will appeal to a limited number of people who are looking for a powerful, portable laptop as well as a tablet to use on the couch at home in the evenings. For those people this is a great device.
The XPS 12 is well-built, powerful and features a superb screen, but like Windows 8, it's combination of laptop and tablet in one package make it something of a Frankenstein's monster - albeit a very good looking one.
Scores
Overall: 8/10
Battery Life: 8/10
Design: 9/10
Performance: 8/10
Features: 8/10
Screen: 9/10
Value: 8/10
The Good
Beautiful design and good build quality
Excellent screen
Good keyboard
Tablet and laptop in one
The Bad
Terrible touchpad
Limited connectivity
Expensive