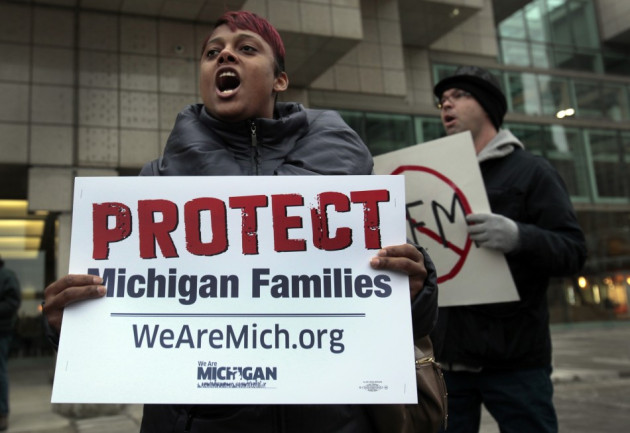 A federal court will conduct the first hearing on Wednesday, over a dispute between the US city of Detroit and the city's pension funds, following the city's emergency manager's request to put on hold all lawsuits that are aiming to stop the city bankruptcy procedures.
Steven Rhodes, US bankruptcy court judge, set the hearing in response to the city emergency manager Kevyn Orr's request after a Michigan court judge previously ordered him to withdraw the Chapter 9 bankruptcy filing on state constitutional grounds.
People concerned over the slashing retirement benefit plans, due to the bankruptcy, have been running to the state court of Michigan's capital of Lansing to overturn the city's filing.
Retired workers, those still in employment, and pension funds of the city have filed three lawsuits, one of which is backed by the United Auto Workers union.
Rosemarie Aquilina Ingham County Circuit Court Judge commented on the bankruptcy filing on 19 July saying that the state law, which allowed Michigan's governor Rick Snyder to approve the bankruptcy filing, has violated the Constitution.
"The governor cannot take actions that would violate constitutional protections for retirement benefits for public workers," she added.
Labour unions trying to stop Detroit from cutting pensions would raise their arguments against the city administration in the hearing set for Wednesday.
"Federal bankruptcy law generally trumps state law," said Stuart Gold, a Detroit-based bankruptcy lawyer at Gold Lange & Majoros PC.
Legal experts cited by Reuters said that they expect the federal judge to put state litigation on hold in order to allow the plaintiffs to make use of federal court to argue why the city should not be allowed to file for bankruptcy.
Detroit has $5.7bn in unfunded liabilities for healthcare and other retiree benefits and a $3.5bn pension liability.
Biggest US City Bankruptcy
Detroit, once America's industrial powerhouse, became the largest city in US history to file for municipal bankruptcy on 19July owing $18.5bn (£12.1bn/ €14.1bn) to thousands of creditors.
The city, once known for its booming automobile industry, has suffered from deficiencies in public administration. Crime rate in the city has seen a sharp rise, with a murder rate reaching nearly 40-year high. City's population also had dropped by 25% to 700,000.
The city's municipal government has been under a series of corruption charges over the years, while declining investment in street lights and emergency services has made the situation even worse for its police force.
The bankruptcy filing has $3.7tn municipal bond market on Friday, sending prices lower and yields higher on some bonds.
Protests in Detroit
As Orr with the help of Governor Snyder's plan to reform the city's $18bn, in long-term liabilities, through bankruptcy court, union leaders continue to fight for leverage.
City's municipal unions protested on 22 July against the authority's plan of cutting worker benefits.
The United Auto Workers and American Federation of State, County and Municipal Employees Council 25, two of the Detroit's public union leader heads organised a news conference on the second half of Monday to discuss the alleged constitutional violations in the Detroit's bankruptcy petition.
"I am outraged at how the city's 20,000 public-sector employees have been treated by the governor and the city's new leadership. I know how bargaining can work in difficult crisis situations," Bob King, united auto workers president said.
"In the auto industry, labour with management, the community and government, we all worked together and look at the industry now."
Streets of the city saw Firefighters yesterday from plenty dozen engine houses who organised rallies across Detroit. These rallies would be followed by a series of such gatherings every day in this week. Participating workers at the protest said that the rallies are not strikes but rather are "a way to send a message to city residents."