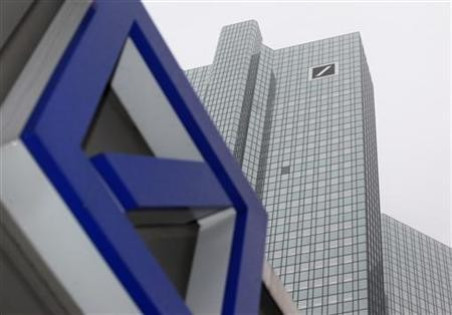 Three former Deutsche Bank staff have alleged that the investment bank masked $12bn of losses during the financial crisis, according to a Financial Times report, which helped the bank avoid being bailed out by the government.
In three separate, independent complaints to the regulatory authority the US Securities and Exchange Commission dating back to 2010 and 2011, the ex-Deutsche Bank employees claim that an enormous derivatives position had been undervalued.
Citing anonymous sources, the FT reported that traders, backed by senior executives, avoided reporting losses this way.
"The allegations of financial mis-statements, which are more than two and one-half years old and were publicly reported in June 2011, have been the subject of a careful and thorough investigation, and they are wholly unfounded," Renee Calabro, a spokeswoman at Deutsche Bank, said.
Two employees said they were forced out of the company after making internal complaints about the situation.
Risk manager Eric Ben-Artzi was dismissed after his SEC complaint, as was senior trader Matthew Simpson.
Simpson subsequently received a $900,000 settlement from Deutsche.
The identity of the third SEC complainant is not publicly known.