The rise of artificial intelligence (AI) and automated technology is set to have a huge impact on the future workforce of Deutsche Bank, with a "big number" of staff inevitably impacted because they already resemble robots, chief executive John Cryan has said.
"The truthful answer is we won't need as many people," he confirmed during a conference in Frankfurt, as reported by the Financial Times (FT) this week (6 September).
He added: "In our banks we have people behaving like robots doing mechanical things, tomorrow we're going to have robots behaving like people." Cryan, referencing the impact technology will have, said "maybe people need to find new ways of spending their time".
According to the FT, he did not elaborate on how much of the workforce would be impacted by advances in AI.
But Cryan did, however, mention the role of accountants as one example by asserting that those in the role now "spend a lot of the time basically being an abacus".
He said that Deutsche Bank needed to inhabit a "more revolutionary spirit" and noted that the ongoing status quo in the banking sector is not set to last.
Technology, especially artificial intelligence, has altered the course of banking. "AI will gradually replace humans in some functions like personal assistants, digital labour and machine learning," wrote consultancy firm PWC in a December 2016 analysis report.
AI – mostly automation – has become a cheaper and more effective option when compared to a human workforce. AI doesn't complain; it doesn't have a union.
Deutsche Bank is currently in the middle of a major restructuring plan, led by Cryan. Headquartered in Frankfurt, it currently has a total workforce of approximately 100,000 people.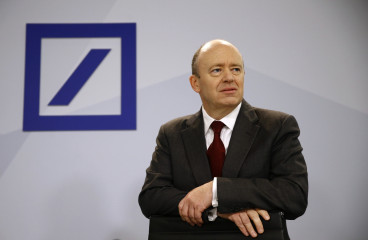 As reported back in 2015, the Deutsche Bank chief said changes were needed to create a more streamlined business.
Since January 2016, a number of corporate and structural changes have been made.
In 2017, however, technological advances – from fintech to cryptocurrency markets – are once again forcing some institutions to re-evaluate their position in the market.
In March this year, a report from consultancy firm Accenture – titled Technology Vision 2017 – revealed that 4 in 5 bankers now believe AI would drastically impact the ways in which banks interact with clients.
"There is no argument that technology is changing banking," the report warned.
Alan McIntyre, head of the Accenture's banking division and a co-author of the report, said at the time that there was a "big paradox" in the debate involving AI in finance.
He said: "People think technology will lead to banking becoming more and more automated and less and less personalised, but what we've seen coming through here is the view that technology will actually help banking become a lot more personalised.
"[It] will give people the impression that the bank knows them a lot better, and in many ways it will take banking back to the feeling that people had when there were more human interactions."
That conclusion, of course, may still not be great news for the accountants.