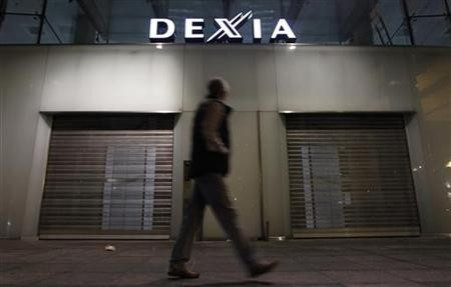 We were all spared the "Mayan misery" pessimists had prepared us for at this year's winter solstice - so what can the EU now manage to deliver upon us as a substitute? How about a European version of the Lehman Brothers' bank collapse? That should start the New Year amid suitable gloom and chaos.
Crunch day for the next episode, in the sorry saga that the Belgian/Franco Dexia Bank, came when EU Competition Commissioner, Joaquin Almunia, announced to his Commission what could well be a coup de grâce for many small savers and communal municipalities. Such depositors, who ignored "higher yields = greater risk", might feel as if their world has ended, even without the Mayans' worst predictions having taken place.
To get some perspective go to this link to the Europolitics website and read the stark facts in nice round numbers. €85 billion is to be spent to allow the "orderly resolution" of the problems at Dexia Bank, thus avoiding, we are informed, the potential "disorderly consequences" of resolving the problems at this bank and "allows for the controlled winding down of the largest bad bank in the EU with over €300 billion in assets".
I have been blogging on the farce and fiasco that is the Dexia Bank crisis for much more than a year now, and if the EU Commission determines this week that all has been in accordance with EU competition rules and policy, hollow laughter will be heard across Europe.
Consider if you will for a brief moment the 2008 Annual Report of this bank, linked here in pdf format. No need to peruse column after column of figures, nor table after table of the detail, or indeed paragraph after paragraph of the text. Just scroll to page 196 (page 198 of my pdf reader) and at the foot of the page on the bottom right read note E, which states:
§§§
E. Carrying amount of financial assets
with renegotiated terms that otherwise
should be past-due or impaired
No major operation is concerned by this point as Dexia is
mainly active in the public sector.
§§§
How about that for a gem of a disclaimer, which for this reader at least seems to make complete garbage of every other fact and figure put across in all the remainder of the 250-odd pages of the document, signed in Antwerp in April 2009?
Warnings of the utmost suspicion coming out of Dexia were clearly picked up by the ECB, as any quick read of the Bloomberg Business News Report, linked here, dated 14 October, 2011, will show.
One other item of interest for those who have not been following this matter is the role of the chairman of the board of directors, whose statement on the results is on page 8 and 9, namely one, Jean-Luc Dehaene. Mr Dehaene's name is mentioned in one of my earliest "Ironies Too" postings on Dexia, linked here, as once having received the European "Vision for Europe" award!
19/2/11 "Can it be any surprise to learn that Trichet is the latest recipient of the 'Vision for Europe' award? Previous laureates have included Jacques Santer, Jean-Claude Juncker, Jean-Luc Dehaene and Helmut Kohl, a depressing and dreary collection of functionaries in the 'leadership' of Europe. This award is granted 'in recognition of outstanding achievements in taking Europe into the future'; self-evidently an exercise in fatuity.The first recipient of this self-congratulatory award was Jacques Santer, former EU President, forced from his extravagant sinecure by Paul Van Buitenen's devastating accusations of corruption and fraud.
Mr Dehaene might be better remembered by English speakers as having been the nominee for President of the EU Commission, who was blackballed by then British PM John Major only to be replaced by fellow Benelux candidate, Jacques Santer - now notorious for being the victim of the sole democratic act ever undertaken by the European Parliament, namely, the sacking of his entire commission.
Martin Cole runs politically themed blogs, including Ironies Too, and tweets and comments about the erosions of liberties