The Queen appeared to enjoy herself on the FROW at Richard Quinn's runway show at London Fashion Week yesterday, proving she's seen it all in her 91 years by seeming completely unfazed by models sauntering down the catwalk in motorcycle helmets.
But one thing that may have shocked Her Majesty was US Vogue editor Anna Wintour's decision to keep her sunglasses on while addressing her.
On the other side of the Queen was a more relaxed-looking Caroline Rush, the British Fashion Council chief executive.
But along with her tense smile and flinching hands, Wintour, 68, could have caused offence to the British monarch by wearing her blacked-out oversized shades while chatting and laughing next to her on the front row.
Etiquette expert William Hanson explained that Wintour should have swallowed her pride and removed her so-called "armour" on the rare and special occasion of sitting alongside the Queen at a fashion show.
He told IBTimes UK: "Dame Anna Wintour should have removed her sunglasses when in the presence of Her Majesty The Queen at London Fashion Week.
"She manages to remove them at other royal events - such as the reception for Fashion Week at Buckingham Palace the day before.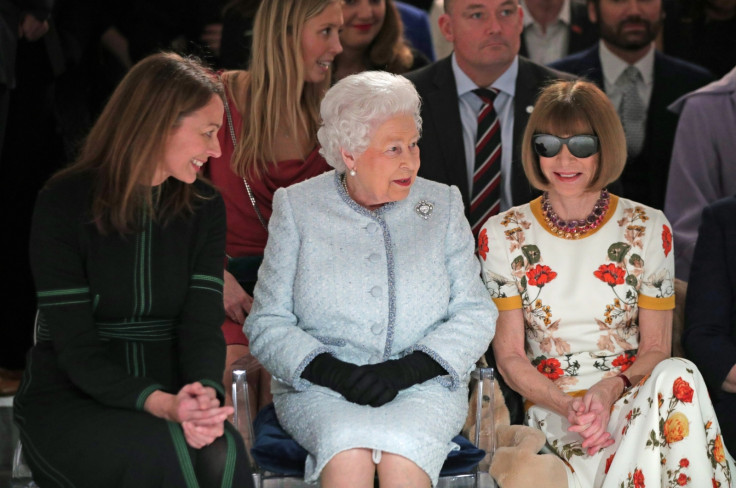 "Although I know that Dame Anna would have meant the Queen no deliberate disrespect, it is a shame that the queen of fashion's protocol was far from on trend yesterday."
Royal expert Richard Fitzwilliams believes that if Wintour – who was the inspiration behind Meryl Streep's icy character in The Devil Wears Prada – removed her sunglasses, it would have been a disappointment.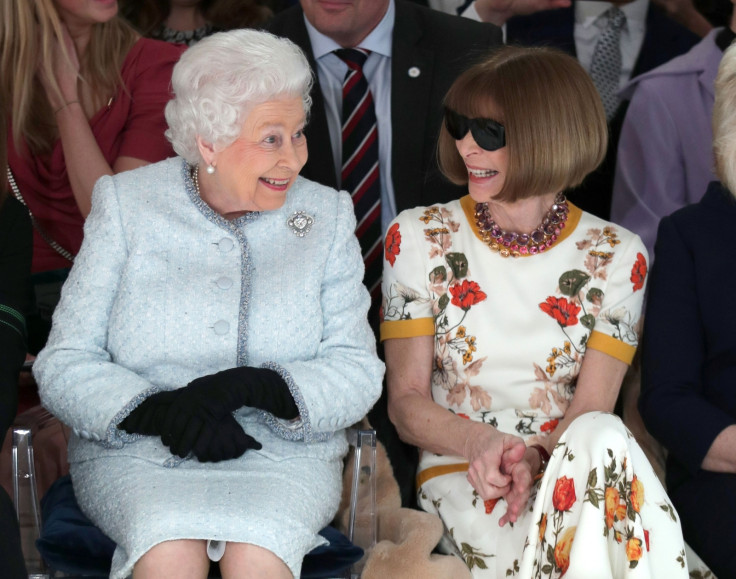 He said: "Dame Anna wore her trademark dark glasses and some have suggested that this broke protocol.
"This however was a fashion event. Dame Anna's dark glasses are as much part of her as the dress code the Queen has made famous over the decades is unique to her.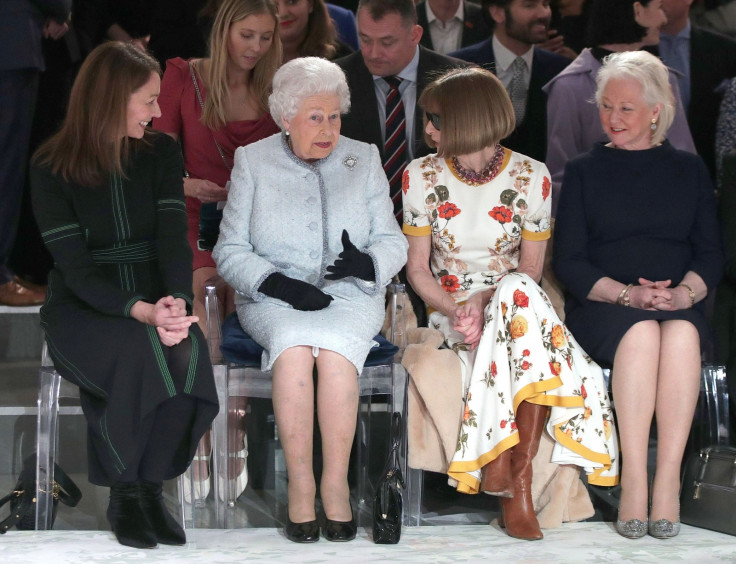 "Given the nature of the event, which included headscarves inspired by the Queen when it was learnt she would be attending, it would have been a grave disappointment had she removed them! Fashion needs its eccentricities!"
One of the only times Wintour has removed her trademark sunnies was when she was made a Dame at Buckingham Palace in 2017. She wore them on arrival at the Palace but removed them before entering the ballroom, where she received an award from the Queen.
She previously opened up about her beloved sunglasses in the "60 minutes with Anna Wintour interview."
Wintour said in 2012: "I can sit in a show and if I am bored out of my mind, nobody will notice... At this point, they have become, really, armour."