With the final switch off in Northern Ireland, analogue television broadcasting is officially a thing of the past. And to mark this new era of digital terrestrial, Ceefax has officially ceased after 38 years.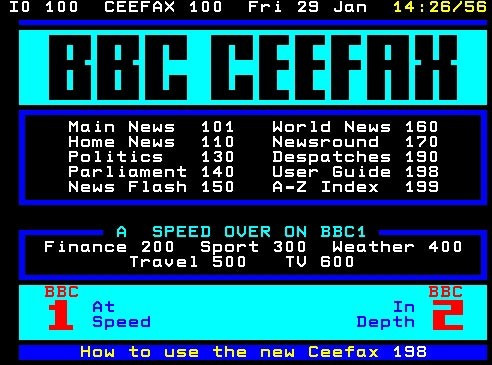 The digital switchover, which started five years ago, is officially complete and means that households across the UK now have access to over 70 digital channels on Freeview, instead of the just five analogue channels.
And just as Northern Ireland's switch marks the end of analogue broadcasting, Ceefax, the BBC's teletext service and the first ever teletext information service, is coming to an end. Ceefax started back in 1974 as an on-demand news service. While Ceefax as it is is stopping, the BBC will continue offering similar services via the red button feature.
The switch also means airwaves that were previously used by analogue television broadcasting have been freed up, allowing this extra capacity to be used for mobile broadband services.
This extra capacity, called the 'Digital Dividend', will be auctioned off by Ofcom at the end of the year to mobile services providers, and will be used to deliver 4G mobile internet services to 98 percent of villages, towns and cities across the UK.

Mobile operator EE, the company formed by the merger of Orange and T-Mobile, announced it will launch the first 4G network in the UK next Tuesday, 30 October.
The auction by Ofcom will allow for more airwaves to be dedicated to bringing higher speed mobile broadband services in the UK.
End of analogue
The move to digital terrestrial marks the end of over 70 years of analogue broadcasting in the UK. The first ever public television broadcasting service launched on 2 November, 1936.
The switch over was announced in April 2004 by Ofcom, when the regulator published the blueprint for switching off analogue broadcasting.
A switchover test was made in Whitehaven in 2007, and the rest of the UK followed region by region. Northern Ireland officially made the switch today, being the last remaining region with analogue broadcasting.
The main process was led by Digital UK, the broadcasters and Arqiva, a media services company/ Ofcom had a smaller role in planning, licensing and overseeing the international coordination necessary for the switchover.