Manchester United striker Dimitar Berbatov would be tempted by a move to big-spending Paris St Germain, according to the player's agent.
The Bulgarian is set to leave the club after falling behind in the pecking order at Old Trafford, with Javier Hernandez and Danny Welbeck's opportunities having been increased during the previous campaign.
Berbatov is likely to have several potential suitors this summer, but according to his agent, Ligue 1 side PSG would be his favoured destination away from United.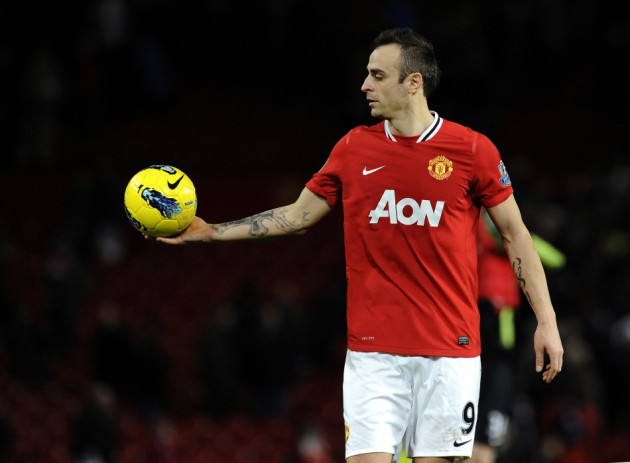 "In the press, there are many speculations regarding Dimitar," his agent Emil Danchev said.
"But the truth is, that PSG's project can really interest him because he wants to play the Champions League next year.
"Plus, there has never been a Bulgarian player at PSG, so it could be good."
Big spending PSG missed out on the French title to Montepellier, but are expected to keep faith with manager Carlo Ancelotti, who guided Chelsea to a domestic double in 2009/10 and AC Milan to two Champions League victories.
The club flexed their financial muscle last summer when they recruited Javier Pastore, while during the January transfer window, Alex moved to the club from Chelsea.
Club owner Nasser Al-Khelaifi insisted earlier this week that PSG, in the wake of their title disappointment, needed to strengthen if they were to finish top of the pile and make an impact in the Champions League next term.
"We want three or four reinforcements," he said.
"Our objective is not only to buy players," he explained. "We have money to spend, but in the medium run, let's say, in the next four or five years, we want to be able to have players who come from our youth ranks.
"We are building PSG's foundations. We will also invest in the training centre or the stadium.
"The golden rule is to negotiate in confidentiality," he said. "Until we have signed a player, nothing will be announced."
United meanwhile have already released Michael Owen after the climax to the season, and the departure of Berbatov could result in Sir Alex Ferguson delving into the transfer market in search of a new forward.
The club will be eager to match rivals Manchester City stride for stride in the transfer market, with United having lost out in the race for the title in the final moments of the campaign.