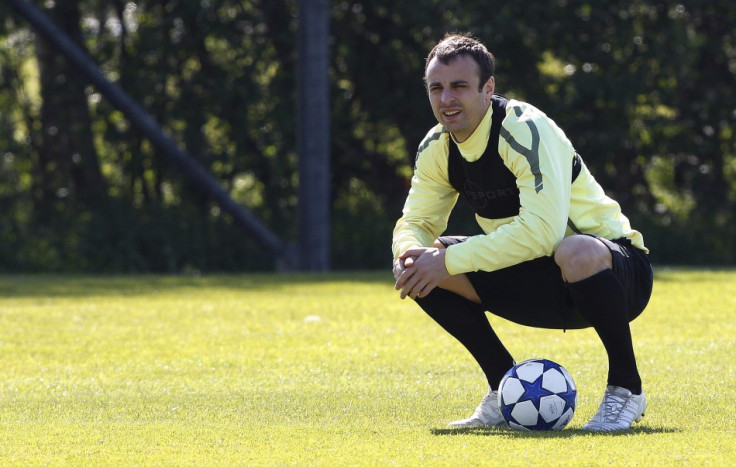 Dimitar Berbatov has hinted that he does intend on staying at Manchester United for longer than his contract currently allows, with the striker praising Sir Alex Ferguson's managing methods as the Scotsman celebrates 25 years in charge of the club.
Berbatov has received limited starts over the last year, with the striker seemingly being replaced by on-target starlet Javier Hernandez.
Hernandez has proven to be a beneficial partner to Wayne Rooney, leaving Berbatov falling down the pecking order, and after Ferguson included Michael Owen in his Champions League final squad over the Bulgaria international in May, an exit looked likely in the summer.
Clubs such as Paris Saint-Germain and Galatasaray have shown interest in taking on the 30-year-old, and speculation has suggested that a move back to Tottenham may even be on the cards. But Ferguson has insisted this season that he will need Berbatov to keep depth in the United squad, and Berbatov appears to be willing to repay the manager's faith, saying that he's incomparable for his qualities as a manager.
"Every player is different," he told MUTV. "Some players need to be pushed and others need to be talked to separately. For me, he just needs to come to me and tell me what to expect from the game and the training ground, then it is up to me to show I can play every game.
"I cannot speak for other players, but it is always good when the manager comes to ask how you're feeling and makes you feel calm before you play the game. For me, he knows how to motivate you and how to speak with you, about football or some issues you have outside of football.
"Just in the way he speaks with you in the team-talk, before important games he can make you feel like it's the last game you'll play in your life so you go out there and want to give everything you have. It's great - you just need to be there to see it."
Berbatov, who has made just four starts over 10 appearances for the club this season, went on to explain that Ferguson's key to success at United is his ability to deal with the players who aren't playing, as well as the ones on the pitch.
"Every time a players retires or goes to another club, he always a back-up plan on how to replace the player and build the team again," he said.
"The way he treats players is unbelievable. Even when not playing or you're injured, he's still speaking with you and encouraging. He makes you feel special and lets you know your place in the team. Even when we're on the training ground or go to lunch, for example, it's like he is one of the team - joking around and telling stories, asking quiz questions.
"He really likes the quiz questions and it's good because he relates with the players and he's really good like that."
United currently have a wide range of strikers to choose from, with Danny Welbeck also in the mix for a starting spot besides Rooney and Hernandez. Berbatov faces a tough fight for a place on the squad, and while his contract runs out next summer, Ferguson has the option to extend the deal by a year regardless of Berbatov's wishes.