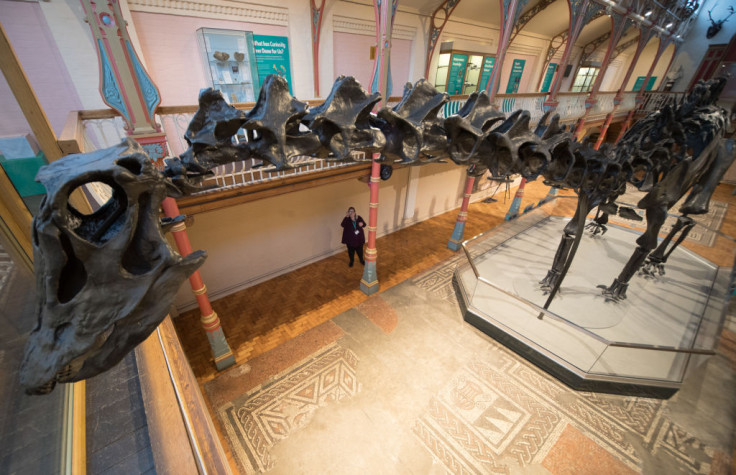 After spending more than a century at London's Natural History Museum (NHM), Dippy the dinosaur is finally touring the UK and its first stop is Dorchester.
The 70ft-long skeleton replica of the Diplodocus carnegii species, which lived about 145-156 million years ago, has been unveiled at the Dorset County Museum in Dorchester and is slated to move on to seven other destinations in Scotland, Wales, Northern Ireland and parts of England.
Initially, the four-metre-high and wide dinosaur cast had a hard time fitting its first home near the Jurassic coast.
Workers had to do a lot of reworking to assemble the 292 plaster of Paris bones inside the Victorian hall, the exhibition space of the museum, BBC reported. However, once it was there, the whole thing looked truly amazing.
The view from the balconies, as the report describes, is so close it appears as if your directly facing the dinosaur or riding it.
This is the first time Dippy is going anywhere outside of NHM. The dinosaur will stay in Dorset for three months and will then hit the road again to treat visitors at Birmingham Museum and Art Gallery and other destinations. The tour will continue till the second half of 2020.
Here is the complete timeline of Dippy's tour:
As one could guess, the mission behind this incredibly long journey is to take the much-loved dinosaur replica close to as many as people as possible in the country, the Guardian reported.
Dippy was replaced last year by a blue whale named hope at NHM's Hintze Hall. The dinosaur was dismantled and then taken to Canada where engineers equipped it with a new mount and base which made dismantling and reassembly quicker and easier.
It is not clear where the dinosaur will go after the two-year-long tour ends. According to a spokesperson of the museum, the dinosaur could go back to London or to any other part of the country.