Dippy the Diplodocus is to be moved out of the Natural History Museum's central hall and replaced by a blue whale skeleton after more than 35 years.
The replica 292-bone skeleton has been one of the main attractions in the South Kensington museum ever since it was first put on display in 1905.
The 85 feet (26-metre) dinosaur was moved into the museum's central hall in 1979, but officials believe having a plastic copy of an animal as the central hall's main attraction is "no longer relevant" in today's world.
The Natural History Museum said as of 2017, a vast blue whale skeleton will welcome visitors through the Museum's main entrance to remind them of the of the "scale of our responsibility to the planet".
The museum's director Sir Michael Dixon said: "This is an important and necessary change. As guardians of one of the world's greatest scientific resources, our purpose is to challenge the way people think about the natural world, and that goal has never been more urgent."
The blue whale is one of the earliest specimens attained by the museum, having purchased it for £250 in 1981. The whale was found beached and injured by whalers in Wexford Harbour, Ireland, in 1891. It was bought by the Museum and first went on display in the Mammal Hall in 1938, where it currently hangs above a life-size model of a blue whale.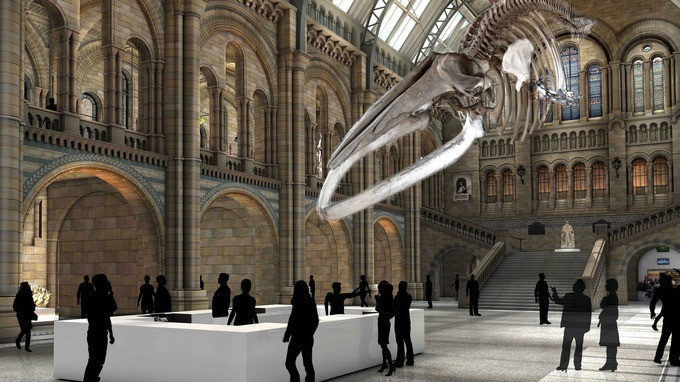 Dixon said the addition of the blue whale in the main hall is part of the museum's new plans to remind people about the plight some species face on earth.
Whale hunting saw the population of blue whales drop significantly from around 250,000 at the start of the 19<sup>th Century to just over 2,300 by the end. After been granted protected species status, the population of blue whales - the largest animal to have ever lived - currently stands at around 25,000.
"Species and ecosystems are being destroyed faster than we can describe them or even understand their significance," said Dixon.
"The blue whale serves as a poignant reminder that while abundance is no guarantee of survival, through our choices, we can make a real difference. There is hope."
The introduction of the blue whale does not mean Dippy has gone into complete retirement. There are plans to take him on a national tour around the UK or even make a make a weather-proof resin copy of the skeleton to be placed be placed outside in the museum's garden.
Dippy is a replica of a near-complete Diplodocus skeleton unearthed in Wyoming, US, in 1898.