Diwali 2015 in London: Where to celebrate the Festival of Lights in England's capital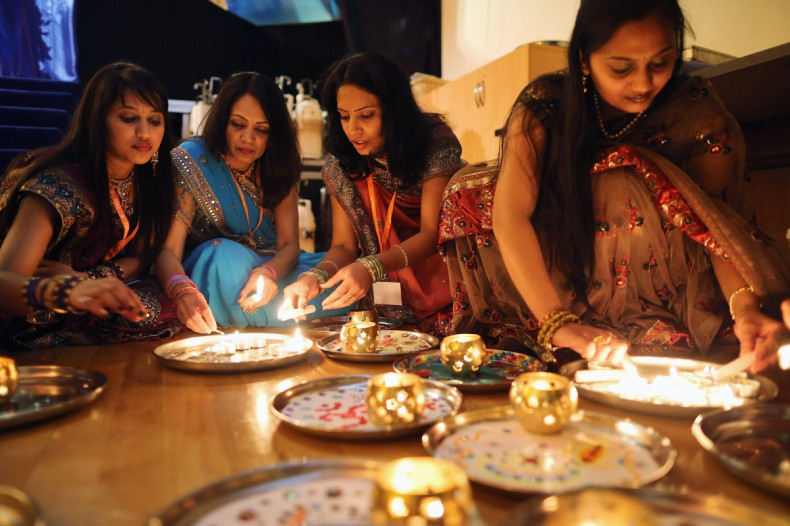 The Indian festival of Diwali, also referred to as the 'Festival of Lights' by many, is quickly approaching on Wednesday 11 November. Diwali has significance to Hindus, Sikhs and Jains, making it the most widely celebrated festival in India. Diwali is believed to mark new beginnings and a renewal of commitment to family values. It also represents the triumph of good over evil and light over darkness, with the word Diwali, or Deepavali, meaning 'a row of lamps'.
Indians make up the largest foreign-born population in the UK, and also the largest-born foreign group in London. It is thus no surprise that Diwali is celebrated in huge numbers around the nation's capital – with many Indians and non-Indians alike participating in the festivities. IBTimes UK has rounded up all the Diwali-related events taking place in the big smoke.
North London
Palmers Green: Diwali dinner and Antakshari (Hindi singing game)
If you're interested in celebrating Diwali in a laid back environment, the Oshwal Association of the UK is hosting a potluck dinner and Antakshari session. Everyone is requested to bring one dish each to contribute to the dinner, after which the age-old Antakshari game of Bollywood and Hindi songs will commence. It's a great way to meet new people and celebrate Diwali in a fun but relaxed way ahead of the fireworks.
When: Thursday 29 October, 8pm until 10pm
Where: Trinity Bowes Methodist Church, Palmerston Road, N22 8RA
Price: Free for all. Book your tickets here.
Wembley: Bollywood party with DJs and belly dancers
The 'Diwali Eve' bash in Middlesex has everything for those looking to celebrate Diwali with a bang. From food and Bollywood DJs to belly dancers, hosts have gone all out to book a venue that holds more than 300 guests, ensuring a celebratory atmosphere.
Held at the Sudbury Primary School, this is an event for people of all ages, giving families a chance to party together. Organisers are keen to stick to the Diwali theme and are asking for attendees to wear traditional Indian clothing on the night.
When: Saturday 7 November, 7pm until 1am
Where: Sudbury Primary School, Watford Road, Wembley, Middlesex HA0 3EY
Price: £25 for adults, £12.50 for children under 12, children under five go free. Book your tickets here.
Watford: Dance performances, fashion show and raffle prizes
This Diwali extravaganza is set to host a range of entertainment with live performances, a fashion show, a raffle draw and a "surprise event" that is sure to leave attendees in suspense till the big day.
For those who don't want to spend their evening babysitting their kids – but also don't want to abandon them completely during the festivities – the event will host a play area for children with slides and a ball pool at no extra cost.
The event is organised by the Desi Twist group and is now in its third year. Asian broadcaster Zee TV and Harrow News Pinner are covering the event on the day. The Mayor of Harrow, Krishna Suresh, is due to inaugurate the event.
When: Saturday 7 November, 6pm till late
Where: The Pavillion, Green Lane, Oxhey, Watford WD19 4LT
Price: £25 for adults, £10 for children between 4-11 years, children under 4 go free. Book your tickets here.
---
West London
Harrow: Funfair, markets and a fireworks display
The Harrow Fireworks Festival is about more than just fireworks. This year they have an incredible range of events for everyone to enjoy, including a fun fair, world food arena, cultural entertainment, DJs, a Disney parade and a 20-minute firework display.
People are invited to submit their applications to host their own stall at the event, with small businesses able to sell their products. Furthermore, the Harrow Fireworks Festival has expanded to also include a 'Commerces Marquee', which will be full of local and bigger organisations, giving people the chance to network while enjoying the Diwali celebrations.
When: Saturday 7 November, 12pm onwards
Where: Byron Park Harrow, Peel Road, London HA3 7QX
Price: Prices start at £5, with family tickets available from £10. Book your tickets here.
Chiswick: Henna tattoos, Bollywood music and Tambola games
Culture Curry specialise in educating children about Indian traditions and culture throughout the year, so their Family Diwali Gala is not to be missed. Children – and parents – can enjoy dancing to Bollywood music and munching on delicious Indian food, with henna tattoos also available for the young ones. Keeping with Indian tradition, a fun game of Tambola (bingo) has also been organised. While you're there you will also have the chance to enquire about signing your kids up to the Indian culture classes.
When: Sunday 15 November, 3pm until 6pm
Where: Chiswick Pier House, Corney Reach Way, London W4 2UG
Price: £20 for adults, £10 for children, children under 3-years-old go free (special family discounts available). Book your tickets here.
---
South London
Croydon: Rangoli (Diwali floor art), prayer ceremony, performances and raffle prizes
To get you into the Diwali spirit, the Oshwal Centre in South London is holding a Diwali celebration complete with rangoli, aartis (prayer rituals), light refreshments and raffle prizes. Ongoing throughout the afternoon and evening, members of the centre will be holding an aarti every 20 minutes for those who wish to participate in an authentic celebration of Diwali.
When: Sunday 8 November, 2pm until 7:30pm
Where: Oshwal House, 1 Campbell Road, Croydon CR0 2SQ
Find out more information here.
Croydon: Diwali dinner and dance
The Vanza South London group is organising a traditional Gujarati dinner to bring in Diwali. The evening will also host live entertainment from two young vocal talents, Amar and Machali, and is due to take place at the Archbishop Lanfranc School. The dinner is free, and you will also be given the chance to join the group as a member, which gives you access to cultural and religious events organised by them throughout the year.
When: Sunday 8 November, 2pm until 7:30pm
Where: Archbishop Lanfranc Academy, Mitcham Rd, Croydon CR9 3AS
Price: Free for all. Book your tickets here.
---
East London
Fenchurch Street: Diwali Networking Ball
If you're looking to celebrate the festive season in a slightly different way, while also gaining some valuable professional development, this might be the event for you. The City Sikhs Network is hosting the "largest professional Asian community event", which will see more than 300 professionals from a range of different backgrounds come together to for business networking.
Alongside the networking session, guests of all ages will also enjoy Indian entertainment to celebrate the Diwali season, while traditional food and drinks will be available to go along with all the business talk.
When: Saturday 14 November, 7pm until midnight
Where: Grange City Hotel, 8-14 Cooper's Row, London EC3N 2BQ
Price: £15 per person (group discounts available) Book your tickets here.
Ilford: Diwali dinner and dance with renowned musical group
The organisers of this event have rounded up some exciting musical names to entertain guests in celebration of the Festival of Lights. Singers Sairam Iyer and Sanjay Sonara will be accompanied by musicians Harmony Group in a line-up that will delight all Indian music fans. A delicious dinner will also be available for guests as they watch the performances.
When: Saturday 21 November, 8pm until late
Where: The Lakeview Marquee, Fairlop Waters Country Park, Forest Rd, Barkingside IG6 3HN
Price: £15 per person Book your tickets here.