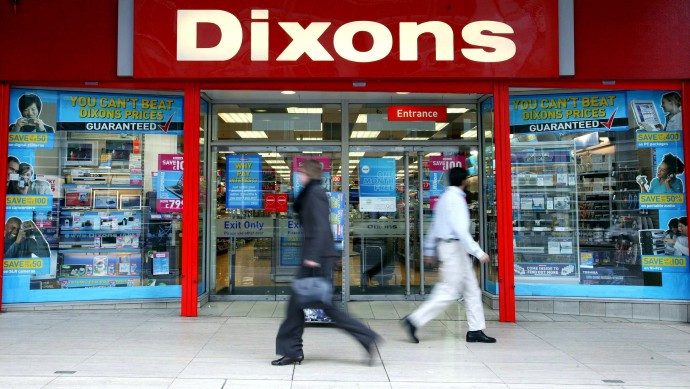 Shares in Dixons Retail were down on the FTSE 250 in morning trading after the group reported a drop in pre-tax profit in the full year ended 30 April.
Total group sales declined one per cent to £8.2 billion, while underlying pre-tax profit dropped from £152 million to £140.4 million.
In Great Britain and Ireland the group's sales dropped three per cent to £3.8 billion although pre-tax profit climbed slightly from £71.1 million to £71.3 million.
The group's Nordics business reported a rise in sales of five per cent to £2.3 billion and an increase in pre-tax profits from £97.4 million to £105.6 million.
In Other International the group saw a decline in sales of five per cent to £1.2 billion and a rise in its losses from £8.3 million to £21.6 million.
E-commerce saw a drop in sales of five per cent to £842.7 million and a drop in pre-tax profits from £11.3 million to £0.9 million.
Dixons said that the economic backdrop continued to be "challenging", but added that it was "well prepared" for the difficult environment.
During the period the group delivered £50 million of cost savings and continued its store reformatting programme.
At the end of the period Dixons said it had net debt of £206.8 million, down from £220.6 million a year previously.
John Browett, Chief Executive of Dixons Retail, said, "Maintaining sales, margin and profits is a good performance in such challenging conditions. We are consistently outperforming our markets and gaining share because our Renewal and Transformation Plan continues to deliver a better and more compelling experience for customers.
"The store refit programme is progressing well and our relentless focus on customers' needs is reinforced through our services brand KNOWHOW which gives us a differentiated offer. Self-help has put our business on firm foundations and in a strong position for when we emerge from the current weak consumer environment."
Richard Hunter, Head of UK Equities at Hargreaves Lansdown Stockbrokers, commented, "The recent theme of online retailing woe continues, as Dixons adds to the chorus of suffering from the squeezed consumer.
"The results were much in line with forecasts, although a profit warning in March had led to reduced expectations. Various impairments including store closure costs contributed to a £300 million charge, whilst comparatives will toughen as this year progresses. Also, the group remains fundamentally tied to the fortunes of the UK economy, where discretionary spending is under severe pressure and the fierce competitive intensity of the industry shows no signs of abating. Rather more positively, the company's accompanying statement was upbeat, signalling a revamp of its stores and a close eye on margins as positioning it to benefit from any uptick in consumer spending habits following any signs of economic recovery.
"Even so, that outcome does not seem to be on the horizon for some time yet. The share price has tended to mirror the general mood of austerity, with a drop of 40% over the last year, during which period the wider FTSE250 has added 18%. The general market view is also a reflection of the company's limited prospects in the near term and comes in at a weak hold."
By 09:00 shares in Dixons Retail were down 3.81 per cent on the FTSE 250 to 15.90 pence per share.