A beaming Hillary Clinton took to the podium on 28 July at the Democratic National Convention to accept her historic nomination as the first major party female candidate for president in American history. She delivered a positive, upbeat message that kept the crowd on its feet, but also warned that the nation is facing a "moment of reckoning."
Clinton also delivered her most stinging attack yet on GOP presidential rival Donald Trump. "A man you can bait with a tweet is not a man who we can trust with nuclear weapons," Clinton warned. She noted that during the Cuban Missile Crisis then-president John F Kennedy didn't fear the start of a nuclear war by "big men with self-control and restraint," but by "little men moved by fear and pride."
In a nod to Bernie Sanders' supporters, she thanked her primary election rival and his backers for putting "economic and social justice issues front and centre where they belong."
Clinton was introduced by her daughter Chelsea, who hailed her mother as a role model and political warrior with a "fierce sense of justice and a heart full of love," and who relishes a battle for health care and reading to granddaughter, Charlotte.
Chelsea triggered one of the biggest roars of the night when she said her mother recognises that "women's rights ... and LGBT rights are human rights."
She then introduced her mother: "Ladies and gentlemen, my mother, my hero, the next president of the United States." Clinton, clad all in white, strode across the stage for several moments, smiling and nodding, and pointing to people in the crowd. She appeared emotional initially as she stood at the podium before effusively thanking the crowd.
At one point she acknowledged her historic nomination as a "milestone in our nation's march towards a more perfect union.
"When any barrier falls for anyone in America," she declared, "it clears the way for everyone. "When there are no ceilings, the sky's the limit."
But she also sounded an alarm that the nation faces a "moment of reckoning" now.
"Bonds of trust and respect are fraying. And just as with our founders there are no guarantees. It truly is up to us. We have to decide whether we're going to work together so we can all rise together," she said.
"Our country's motto is e pluribus unum — out of many we are one. Will we stay true to that motto?" Clinton asked in a clear dig at Trump.
She lashed out at Trump as one who "wants to divide us from each other and from the rest of the world. He is betting that the perils of today's world that will blind us to its unlimited promise. He's taken the Republican Party a long way, from Morning in America to Midnight in America. He wants us to fear the future and fear each other."
She quoted former president Franklin D Roosevelt's famous saying: "The only thing to fear is fear itself."
Clinton added: "We are clear-eyed about what our country is up against, but we are not afraid. We will rise to the challenge, just as we always have. We will not build a wall. Instead, we will build an economy where everyone who wants a good paying job can get one."
And — just like President Obama in his speech the night before — Clinton also criticised Trump's boast that he alone can fix the nation's problems.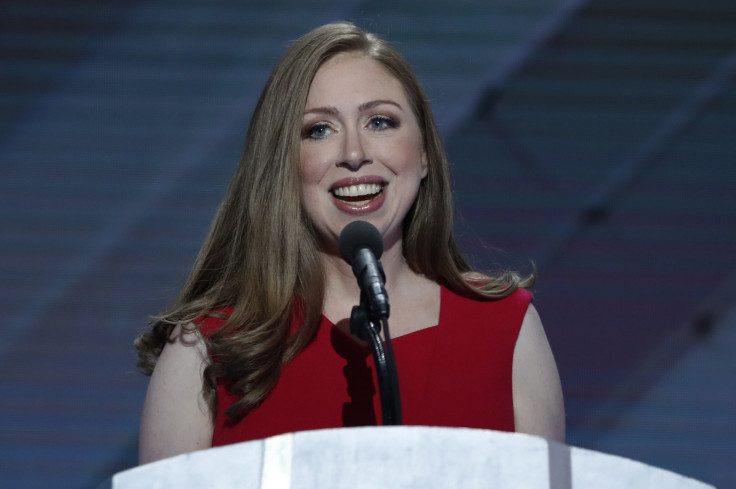 "Really?" she asked. "Isn't he forgetting troops on the front lines, police officers and fire fighters who run toward danger, doctors and nurses who care for us, teachers who change lives ... He's forgetting every last one of us.
"Americans don't say, 'I alone can fix it,' we say, 'We'll fix it together,'" she said.
"Stronger together is not just a lesson from our history. It's not just a slogan for our campaign. It's a guiding principle for the country we've always been and the future we're going to build," she said.
It means a "country where the economy works for everyone, not just those at the top. Where you can get a good job and send your kids to a good school, no matter what zip code you live in ... [where] love trumps hate."
Clinton also condemned Trump for his hypocrisy, for demanding that jobs be brought back to America for Americans, when much of his businesses rely on products, from clothing to furniture, that he has manufactured overseas.
"Donald Trump says he wants to make America great again — making he could start by actually making things in America again," she quipped to laughter in the hall.
Clinton acknowledged frustration in the nation that much needs to be done. She vowed that as president her "primary mission" will be to "create more opportunity and more good jobs with rising wages right here in the United States."
She also vowed to "reform" the criminal justice system to "rebuild trust," and that she would "not be in the pocket of the gun lobby."
She called for new justices on a Supreme Court that would overturn the Citizens United decision that brought a flood of cash into politics, and vowed that "Wall Street can never, ever be allowed to wreck Main Street again."
She noted, laughing, that she "believes in science," in another dig at Trump. "I believe that climate change is real and that we can save our planet while creating millions of good-paying clean energy jobs," Clinton said.
She promised to focus on making the nation safe relying on her experience as well as "smarts, judgment, cool resolve, and the precise and strategic application of power."
Clinton added: "Anyone reading the news can see the threats and turbulence we face from Baghdad and Kabul, to Nice and Paris and Brussels, to San Bernardino and Orlando. We're dealing with determined enemies that must be defeated. No wonder people are anxious and looking for reassurance — looking for steady leadership."
She concluded: "We begin a new chapter tonight. Yes, the world is watching what we do. Yes, America's destiny is ours to choose.
"So let's be stronger together, my fellow Americans. Let's look to the future with courage and confidence. Let's build a better tomorrow for our beloved children and our beloved country.
"When we do, America will be greater than ever."