Dogecoin is one of dozens of crypto-currencies in existence but one which has carved out a niche for itself by promoting a sense of community and generosity rather than simply looking to make money.
And the community behind the meme-based crypto-currency is hoping to use that sense of charity to help bring the Jamaican bobsleigh team to the Winter Olympics in Sochi next month.
Jamaican bobsleigh first shot to fame 26 years ago when they qualified for the 1988 Winter Olympics in Calgary a story subsequentially immortalised in the film Cool Runnings.
Now, a two-man Jamaican team of Winston Watts and Marvin Dixon have qualified for this year's Winter Olympics which is set to kick off in just under three weeks time in Sochi, Russia.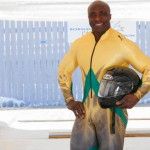 While the 46-year-old Watts, a naturalised American, has contributed his own money to help get to his fourth Olympics, the team now needs to raise a lot more money if it is to travel and compete at Sochi 2014.
Enter the Doge
And this is where the Dogecoin community is looking to help out. According to the official donation page, people have already donated 26,070,122 coins to the fund, which at today's exchange rate ($0.0012) relates to roughly $31,300 (£19,000; €23,100) raised in just over 24 hours.
The Jamaican bobsleigh team has also set up its own fund-raising page and Paypal account to help with fundraising, and since launching that website has already crashed due to the high volume of people visiting it. However at the time of writing it was online again.
The fact that Dogecoin is being used to raise money for a good cause is not surprising, as within a week of the crypto-currency being launched it became the second most-tipped currency online.
Tipping
Tipping is the online equivalent of throwing a few coins into a busker's hat on the Underground. People who perform good deeds online will be donated some coins in their virtual currency of choice.
It is unclear how much money the pair need in order to get to Russia next month, but considering they were unable to fly to St Moritz to take part in the final qualifying event (and had to rely on other teams not beating their time) it seems that the little funding coming from the Jamaican Olympics Association won't be enough on its own.