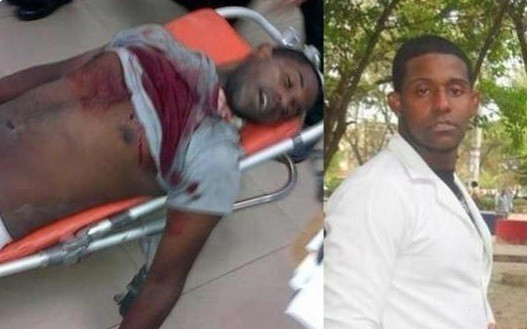 Amnesty International has demanded urgent police reform in the Dominican Republican after officers shot dead a 21-year-old medical student during a protest over taxes.
According to eyewitnesses, police fired tear gas at anyone who tried to help Willy Florián Ramírez, who had been out walking on Thursday in the capital of Santo Domingo, where his fellow students were protesting against proposals to increase various taxes.
Heavily armed police officers fired live rounds at protesters who were making their way from the campus to join a demonstration taking place at the country's Congress building. It is thought Ramírez, a student at the Autonomous University of Santo Domingo, was just passing through the campus and was not taking an active role in the demonstration.
Daphne Valera, who witnessed the shooting, told the New York Post: "He was shot in the back. It was around 1pm. He was just standing there in the street on campus."
Danilo Medina, president of the Republic, has ordered an investigation into the student's death, while a bullet extracted from Ramírez's body has been sent for forensic analysis to see if it is the same as those found in the officers' guns.
Javier Zúñiga, special adviser to Amnesty International, said: "His tragic death should lead to urgent measures to prevent more unlawful killings in the future.
"While the police have a duty to maintain public order during protests, excessive force must never be used, and lethal arms should be used as the very last resort only in self-defence or the defence of others against the imminent threat of death or serious injury."
The Dominican police claim one of the protesters fired at them first, and they responded by firing shots in the air and using tear gas to disperse the protesters.
According to a report from October last year, a tenth of all murders in the Dominican Republic are the result of police abuse.