Donald Trump sparked fresh controversy yesterday (30 September) after launching a tirade of abuse at a former beauty pageant winner, branding her "disgusting".
In a number of tweets made overnight, the Republican presidential candidate accused Alicia Machado of having a sex tape and implied Democrat candidate Hillary Clinton had helped secure her US citizenship.
In response, Machado said that the Trump campaign was attempting to intimidate her into silence, while Clinton said Trump's outburst showed he is "temperamentally unfit"to be president.
Last week, Venezuelan-born Machado claimed Trump berated her for putting on weight after her 1996 Miss Universe win, calling her "Miss Piggy".
She also accused him of calling her "Miss Housekeeping" due to her Latina heritage while he was owner of the pageant.
Democrat nominee Clinton raised the issue in last week's presidential debate as an example of how Trump treats women.
However, the GOP's presidential candidate took to Twitter to deny the allegations and smear Machado, citing her "terrible" past and calling her "a con".
He said: "Did Crooked Hillary help disgusting (check out sex tape and past) Alicia M become a US citizen so she could use her in the debate?"
In her Twitter response, Clinton asked: "Who gets up at 3 o'clock in the morning to engage in a Twitter attack against a former Miss Universe?"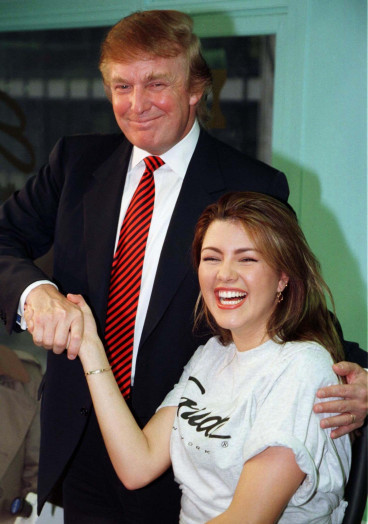 Clinton also said said that Trump's outburst "proves, yet again, that that he is temperamentally unfit to be president and commander-in-chief. "I've said it before and I'll say it again, a man who can be provoked by a tweet should not be anywhere near the nuclear codes".
In a statement on Instagram, Machado said: "The Republican candidate and his team are again generating attacks, insults and trying to resurrect false allegations on my life.
"Their purpose is to intimidate me, humiliate me and tip me off balance.
"The attacks are slanders and lies full of bad intentions, with no basis.
"With his hate campaign, the Republican candidate insists in discrediting and demoralising a woman – one of his worse characteristics."
Trump defended his late night tweets saying: "For those few people knocking me for tweeting at three o'clock in the morning, at least you know I will be there, awake, to answer the call!"
The claim that Machado appeared in a sex tape has been debunked.
The fact-checking website Snopes examined the footage and found that while some of the footage was of Machado when she appeared in a reality TV show, the explicit elements were taken from pornographic films that feature an actress who resembled Machado. Machado has appeared topless in a Playboy photo shoot.
The rumour that Machado appeared in a sex tape appears to originate from the right-wing website Infowars, which is run by conspiracy theorist and Trump supporter Alex Jones.
Trump's attack on Machado came as news of the tycoon's only adult acting past emerged. Footage obtained by Buzzfeed shows how he appeared in a Playboy soft core porn film in 2000. In his (clothed) cameo role, he breaks a bottle of champagne of a Playboy limo.