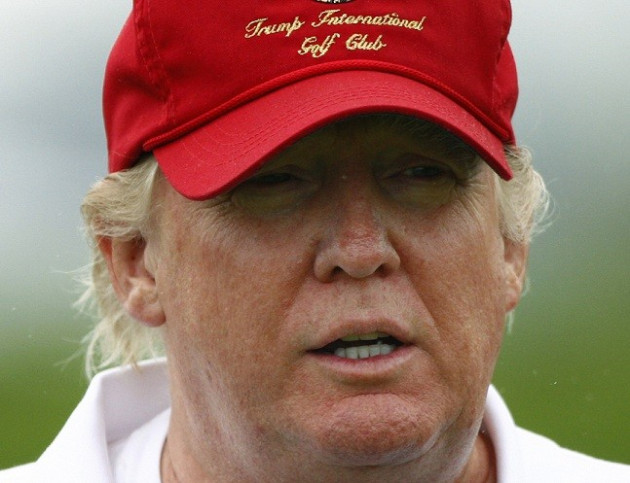 Billionaire businessman Donald Trump has hit back after an arch critic of his Scottish golf course won Man of the Year at a glitzy awards ceremony.
The business magnate failed to see the funny side when Michael Forbes, a local fisherman, scooped the Spirit of Scotland gong.
At the Edinburgh ceremony sponsored by Glenfiddich, Forbes beat off stiff competition from Andy Murray, who won the US Tennis Open and triumphed at the Olympic Games.
Trump took the choice of winner as a slap in the face for building a giant golf links near Aberdeen in the teeth of strong local opposition.
Trump and Forbes have clashed before. Forbes refused to sell his 23-acre plot of land to the tycoon, then daubed slogans reading "no golf course" on his property. Trump branded his rival's land a pigsty and a slum.
Trump hit the roof after hearing about the honour bestowed on Forbes by issuing a worldwide ban on Glenfiddich and other whiskies produced by the William Grant & Sons distillery.
Calling the award "an insult to both Andy Murray and Scotland itself", Trump attacked his critics and claimed the whisky firm had fixed the result because it was terrified of a new distillery built on the resort by Trump.
"Glenfiddich should be ashamed of themselves for granting this award to Forbes, just for the sake of publicity," he said.
"Glenfiddich is upset that we created our own single malt whisky using another distillery. People at our clubs do not ask for Glenfiddich, and I make a pledge that no Trump property will ever do business with Glenfiddich or William Grant & Sons.
"I hereby call for a boycott on drinking Glenfiddich products because there is no way a result such as this could have been made by the Scottish people."
William Grant & Son insisted that Forbes triumphed in a popular vote over which it had no influence. The decision of the people must be respected, it added.
"Top Scot is a totally open category in which the people of Scotland can vote for whomsoever they choose and Glenfiddich has no influence on this decision," a spokesman said.
[The] Top Scot may be one of that year's category nominees or may come from any walk of life. The person receiving the greatest number of votes, cast by the people of Scotland, wins the award."
It added: "In the history of these awards, we are not aware of the Top Scot award causing any offence or upset to anyone and it is not our intention to do so now. These awards were set up to give the people of Scotland a vote and we must respect their decision."