Donald Trump is leading an "emotional" campaign that turns some gender stereotypes on their head while loudly reinforcing others, say politics professors.
Between the sexual assault accusations against him, Trump's reference to Hillary Clinton as a "nasty woman," and jokes at the expense of his wife, Melania, the election has become a "renegotiation of the rules of public conversation of women and men," according to Mary Evans, Centennial Professor at LSE's Gender Institute.
In the past, women have been stereotyped as too emotional to lead a business or other large institution. "Trump has reversed that," said Evans. "One of the things that I think has appealed to people in Trump is that he is saying it's OK to be emotional."
Throughout the campaign Trump has characterised Clinton as a Machiavellian strategist. Cool, calculating, and inauthentic. But what is contained in Clinton and Trump are ways of looking at the world, Evans said: the rational and emotional.
"A lot of people have the sense that in the 21<sup>st Century people are very controlled," she said. "There's a lot of people saying you can't do this, you can't say that. Trump is a kind of collective letting off of steam. And he's doing it in gendered ways."
Republican political pundit, Newt Gingrich, summed it up in an interview during the Republican National Convention in July. "The current view is that Liberals have a whole set of statistics that may be right, but it's not where human beings are," he said in response to CNN's challenge to his assertion that crime is on the rise.
"As a political candidate I'll go with how people feel," he replied, "and I'll let you go with the theoreticians."
Trump has not gone so far as to say "you should be home in the kitchen," said Evans, but it's the "interruptions, the abuse" that say "I don't think you're worth engaging with."
During the first debate Trump was criticised for interrupting Clinton more than she interrupted him.
It's things like this — combined with a tenth woman coming forward to accuse him of sexual assault on Thursday (20 October), and poking fun at his wife Melania for copying a speech by Michelle Obama — that "doesn't send a good message to the women who still support him," said Michael Plouffe, a lecturer in International Political Economy at UCL.
"The way that he typically talks about women is as objects, not individuals," Plouffe said, shows "women in his world aren't given the ability to make judgements and speak for themselves."
That reflects "a bit of a problem on the Conservative right in the US," he said. Recent polls have shown Clinton leading against Trump by 33 percentage points among women.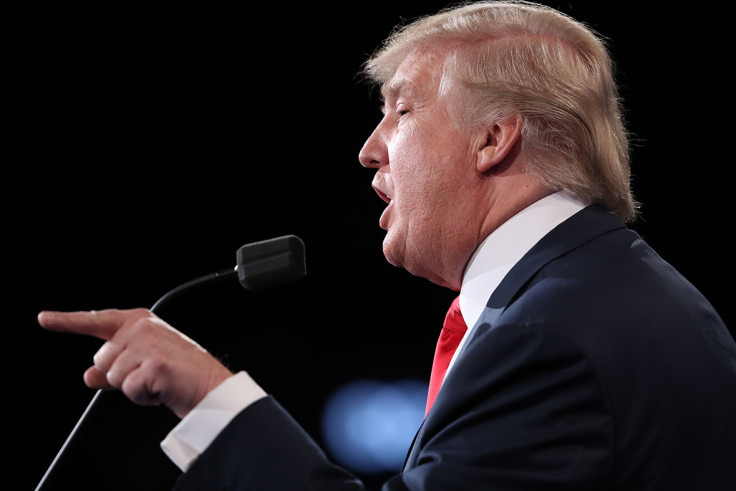 Videos of Trump speaking lewdly about women (young and old) and their bodies over the past few weeks have caused many Conservatives to distance themselves from the candidate. Yet he still retains support from some prominent evangelical leaders.
Plouffe said he sees the perception of women changing in society as they take on more leading rolls at businesses and institutions. The UK even has its second female Prime Minister. Still, it's "pretty clear that whenever there are highly ranked women, it's a big deal," Plouffe said, adding "it's clear more progress needs to be made."
The chemistry and campaign between the two candidates "would be different" if a man was running against Trump, Evans maintains.
"I don't think he would treat another man in the same way," she said, adding that the issue of gender combines with others to amplify Trump's message to his supporters that "we don't have to listen."