Melania Trump has defended her husband, Donald Trump, in her first media interview since a tape of him making lewd comments about women in 2005 was leaked. During the recording, the Republican presidential nominee can be heard bragging about grabbing them by the "p****" due to his stardom.
Trump said she was shocked to hear the type of language being used by her husband during a conversation with now-ousted NBC host, Billy Bush. "I was surprised, because I said like I don't know that person that would talk that way, and that he would say that kind of stuff in private," she said in an interview with CNN's Anderson Cooper on Monday (17 October).
The tape provoked widespread anger, causing a number of Republicans to abandon their support of the party's candidate. Since the recording emerged, several women have accused the GOP nominee of sexual assault, which he denies.
Melania Trump, however, hit out at allegations of sexual misconduct against her husband, calling them "lies" and said she believed her husband. "This was all organised from the opposition. And with the details... did they ever check the background of these women? They don't have any facts," she added.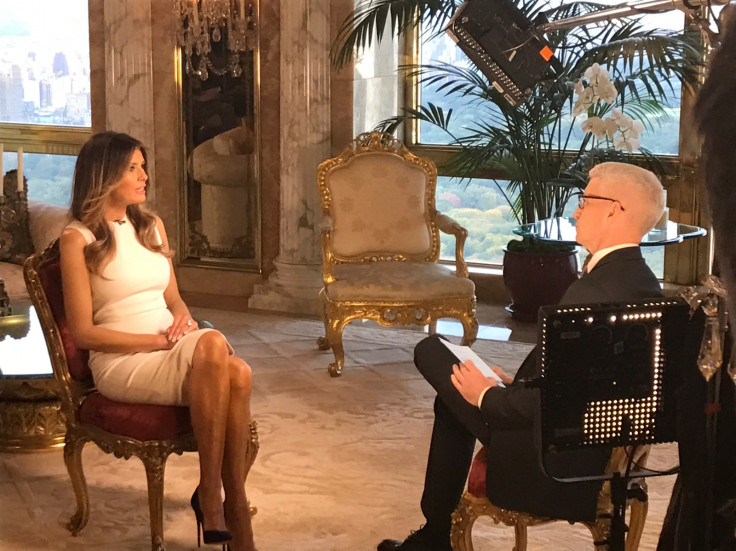 As she publicly defended her husband, Melania Trump said the US presidential candidate was guilty of "boy talk". She also claimed that Trump was "egged on" by Bush "to say dirty and bad stuff".
She also somewhat bizarrely attempted to explain the remarks away by suggesting that Trump did not know his words were being recorded. "And as you can see from the tape, the cameras were not on – it was only a mic," she said. "And I wonder if they even knew that the mic was on."
In a separate interview, Trump said the words were both inappropriate and personally offensive to her. She said Donald Trump had apologised to her and added: "We are moving on."
Trump's intervention came as Hillary Clinton opened up a 12-point lead in a new poll. This is up from last month's four-point gap and "marks a return to the large advantage Clinton held shortly after the Democratic convention," according to Monmouth University, which conducted the survey. It also found that six in 10 voters believe claims of unwanted sexual advances by Trump are likely to be true.
According to the poll, respondents differ on whether the leaked video is typical "boy talk" or not, depending on which candidate they back. At present, 50% of likely voters support Clinton while Trump lags behind on 38%. Some 805 registered voters took part in the telephone survey.