Donna Karan's Adriana Lima Haiti Ad Campaign Deemed Racist [PHOTOS]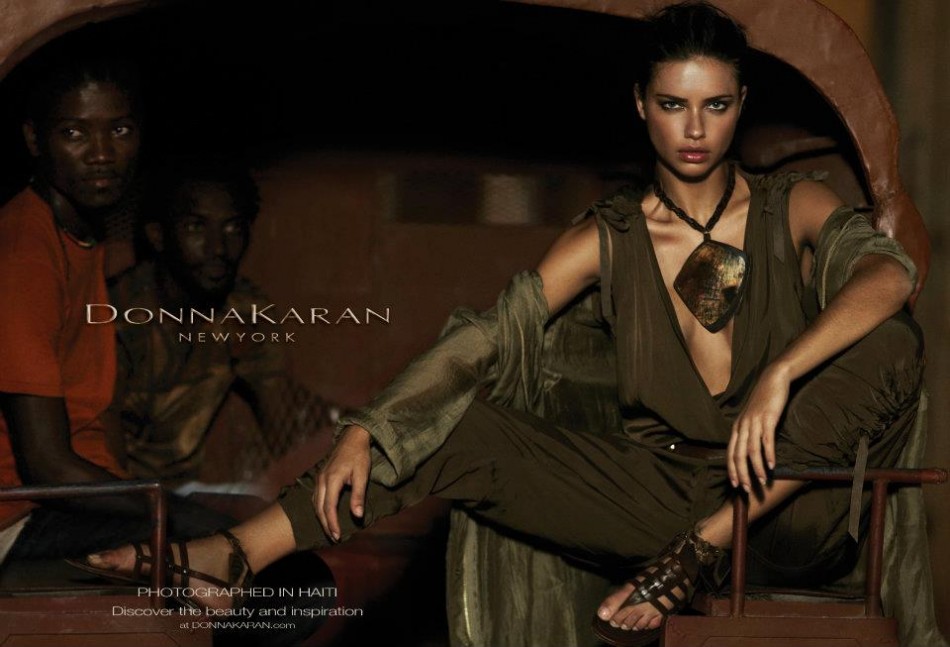 Donna Karan's recent Haiti campaign featuring the stunning supermodel Adriana Lima has provoked a controversy and has been deemed insensitive.
Critics have called the high-end fashion brand's campaign, which shows the supermodel sitting in the foreground while two Haitians are seen sitting behind her in the shadows, as racist.
Photographed by Russell James, the images show Lima dressed in ensembles inspired by the local Philippe Dodard from Karan's new collection.
"Using the downtrodden as props for high-fashion shoots smacks of completely insensitive imperialistic attitudes," says a Huffington Post commentator about the advertisement. Besides this, some others have also pointed out that the advertisement depicts the contrast between the brand's expensive high-end clothing and Haiti's extreme poverty.
Commenting on the campaign, couture designer Donna Karan mentioned that the shot in Jacmel "infuses the vibrant spirit of Haiti into a sexy New York sophistication. Experience the seduction, art, body and soul."
Best known as Victoria's Secret Angel, Lima is a Brazilian model and is regarded as one of the world's best-paid celebrities in the fashion industry.
"I have never used her before, and I am totally in love with her. She shows the heart and soul of Haiti," WWD quoted Karan on Lima.
Take a look at the campaign images featuring the supermodel and tell us if you find the images offensive and why.
© Copyright IBTimes 2023. All rights reserved.