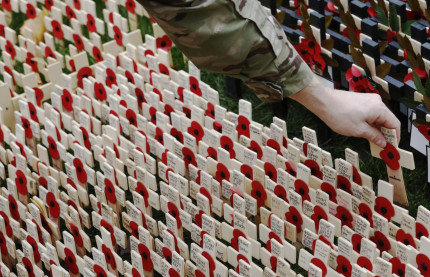 Oh what an unlovely war the row over who started the 1914-18 conflict has turned into, with education secretary Michael Gove allegedly being told by a colleague to "get back in his box".
The government's hopes of keeping commemorations of this year's 100th anniversary of the start of the war respectful, dignified and above-all else, non-political were already crumbling after Gove and his Labour opponent, historian Tristram Hunt, descended into a scrap over who was to blame for the war.
TV comedy Blackadder was vilified for propagating tosh about "lions led by donkeys" and Hunt was attacked for suggesting that German militarism was not the sole reason for the conflict.
Blackadder actor and Labour supporter Tony Robinson claimed that Gove's attack was just "silly" and, inevitably, London mayor Boris Johnson waded in with an attack on Hunt for spouting "leftwing nonsense".
Gove also retaliated, claiming Labour had "denigrated the patriotism, honour and courage demonstrated by ordinary British soldiers".
If it wasn't so unseemly, it would be farcically funny, in an Oxford Union debate sort of way, and certainly worthy of a Basil Fawlty-style "don't mention the war" sketch.
But it has now escalated after the Daily Telegraph claimed a senior Conservative has reflected a widely held view on the Tory benches that Gove should "get back in his box" and stay out of the debate.
It reported a source saying: "Michael should get back in his box. Maybe he has too much time on his hands. Perhaps he should be spending more time on free schools."
There were claims that No 10 backed Gove, despite the fact the prime minister has been eager not to get drawn into this particular political row. What Downing Street has said is that it had been right for Britain to respond to German militarism at the start of the war.
There is now a feeling in Westminster that this has all got out of hand and that it is time a truce, however uneasy, was called over this particular conflict.