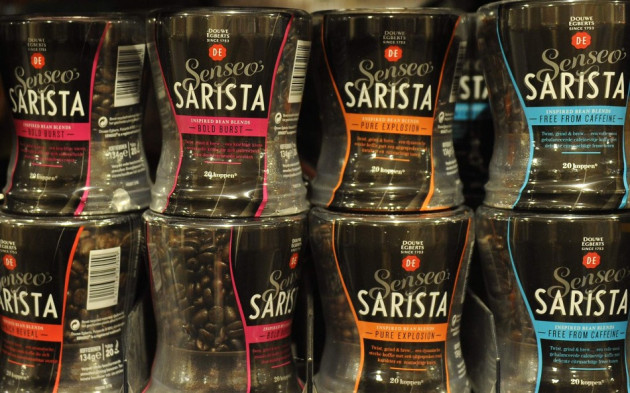 German consumer products conglomerate Joh A Benckiser is set to buy the European coffee company DE Master Blenders, the owner of Douwe Egberts coffee brand.
The Dutch firm was valued at €7.5bn ($9.8bn, £6.4bn) or €12.50 per share in the proposed deal, representing a premium of 36 percent to its volume-weighted average closing share price for the 3 months to 27 March. The bid is less than the €12.75 per-share price revealed earlier when the companies were in talks last month.
JAB already owns 15 percent stake in DE Master Blenders (DEMB) that also owns Senseo coffee and Pickwick Tea.
DEMB said its board fully supports the offer and asked shareholders to accept it.
"After having carefully and diligently assessed JAB's offer, resulting in today's intended offer, the Board fully supports and unanimously recommends this offer to the shareholders for acceptance," non-executive chairman Norman Sorensen said in a statement.
"The fact that JAB will use DEMB as a platform for further growth and has guaranteed to keep its headquarters, R&D and major production sites in the Netherlands, gives the Board confidence that this offer is in the best interest of employees, shareholders and all other stakeholders."
DEMB CEO Jan Bennink earlier told Reuters that the company has not been in talks with other potential buyers.
DE Master Blenders, which was spun off from Sara Lee Corp in 2012, is the third-largest in Europe with sales of about $3.48bn in 2012. Nestle and Mondelez International sold $17.12bn and $8.32bn worth of coffee, respectively, last year.
JAB, which is the investment vehicle of the Reimann family in Germany, intends to expand its growing coffee empire that already includes Caribou Coffee and Peet's Coffee & Tea with the acquisition. The firm plans to build a beverage giant rivalling the global leader Nestle.
"Joh. A. Benckiser and its partners intend to use D.E. Master Blenders as their platform for both organic growth as well as acquisitions in the fast moving consumer goods coffee and tea categories," Chairman Bart Becht said.
JAB intends to finance the acquisition through €3bn in debt and €4.9bn in equity.