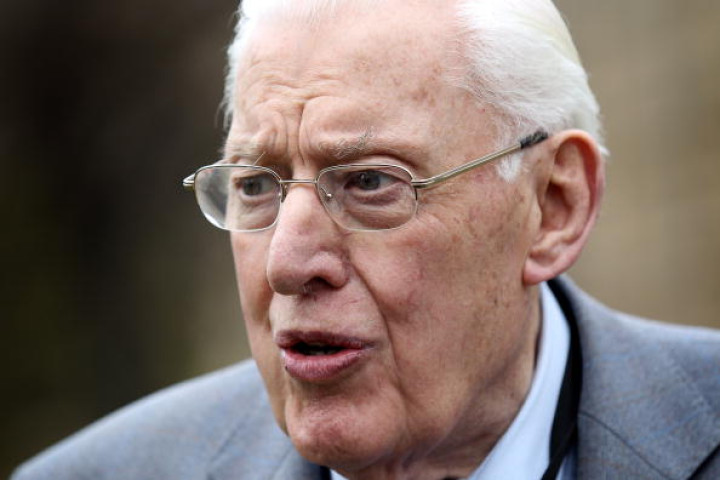 Former Democratic Unionist Party leader Dr Ian Paisley has died aged 88 on Friday morning.
In a statement the reverend's wife Eileen confirmed the news that the former First Minister of Northern Ireland has passed away.
"Although ours is the grand hope of reunion, naturally as a family we are heartbroken," Baroness Paisley said.
"We loved him and he adored us, and our earthly lives are forever changed."
Baroness Paisley said that his funeral would be private.
The controversial Northern Ireland firebrand was a religious preacher turned politician who played a decisive role in what became known as the Troubles.
Staunchly pro-union, and deeply anti-Catholic, Paisley fought for Northern Ireland to remain part of the United Kingdom over a six-decade campaign while detractors blamed the reverend for exacerbating Protestant and Catholic sectarian fault lines.
In 1970, he was elected to Westminster as the Protestant Unionist MP for North Antrim and a year later, he played a key part in establishing the Democratic Unionist Party, which he led until 2008.
A critic of former British Prime Minister Margaret Thatcher, Paisley condemned the PM for allowing Ireland influence of Northern Irish affairs after the Anglo-Irish Agreement in 1985 and campaigned against the Good Friday Agreement of 1998.
Arguably the most symbolic moment of his political career came in 2007, when after decades of opposing the republican Sinn Féin party, he formed an power-sharing alliance with the party and stood alongside Martin McGuinness, who was Paisley's Deputy Firsst Minister after the Northern Ireland Assembly reconvened in 2007.
Paisley retired as a Westminster MP in 2010 with his son, Ian Paisley Junior, elected to his North Antrim seat in the general election that year.
At the age of 84 he was ennobled as Baron Bannside after the defunct constituency where his parliamentary career began.