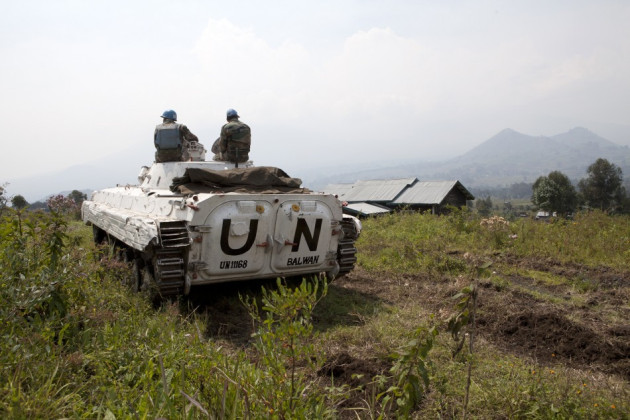 Rebels in the Democratic Republic of Congo have halted their military campaign to facilitate peace talks with the government.
The rebels had advanced to the outskirts of the eastern town of Goma, prompting the intervention of UN troops. However they have now retreated to Kibumba, a village around 30km (18 miles) north of the town.
"We are moving back to Kibumba. Goma is not our priority anymore. We want political negotiations with the government. This is a political matter," M23 spokesman Col. Vianney Kazarama said.
It is reported that the rebels have handed the government a list of demands, including the immediate demilitarisation of Goma and its airport.
The M23, believed to be backed by Rwanda, has also demanded that Congo's UN-supported government make a public announcement on TV and radio to herald the start of negotiations, and wants the border with Uganda to be opened at the town of Bunagana within the next 48 hours.
However the government in Kingshasa has rejected M23's conditions and said it will defend Goma, saying the rebels are "fictitious forces."
"We prefer to negotiate with Rwanda, the real aggressor," DR Congo government spokesman Lambert Mende said.
Before commencing talks, the rebel group demonstrated its military weight by advancing over 10km (6 miles) in 24 hours on the approach to Goma.
M23 rebels came as close as 3km to the crucial provincial capital of North Kivu, despite the intervention of UN helicopters that fired rockets and cannon rounds on the rebel lines.
The rebels said they were "confident" they could take Goma "easily," then move further south and conquer the city of Bukavu, off the Rwanda border - a move which would spark concern within the international community.
"Any British nationals in Goma should leave, and any in DRC should check the FCO's updated travel advice," UK Foreign Minister William Hague said.
The M23 rebels had advanced as close as 100 metres from a Congolese checkpoint just outside Goma, when UN Secretary-General Ban Ki-moon called for the military group to "immediately cease its attacks and any further military advances."
The UN has also demanded an end to external support for the rebel group, UN peacekeeping chief Hervé Ladsous noting they are already very well-equipped. Rwanda denies it is backing the M23 movement.