In the aftermath of the massive takedown operation launched this week (20 July) against AlphaBay and Hansa, two illicit marketplaces hosted on the underbelly of the internet, Reddit users on r/DarkNetMarkets are freaking out about what comes next.
The dedicated section of the popular messageboard website traditionally shares advice, tips and links for those interested in using underground markets to purchase drugs or hacked databases. But a day after the police action, it has been besieged by paranoia, fear and speculation.

Most users are now voicing concerns about a remaining market called "Dream", which like Hansa and AlphaBay is only accessible using special software known as 'Tor', or The Onion Router. One user with a track record of being right says it is already under police control.
"I got contacted by an ex-Hansa staff member telling me that the operation is apparently bigger than we currently assume, that 'there will be a bloodbath, a purge' and that 'any vendor [should] seize his operation, lawyer up and hide his trails," one post read.
On 20 July, law enforcement from around the world, including the US Department of Justice (DoJ), Europol and Dutch police, confirmed the two websites had been seized, multiple arrests had been made and millions' worth of cryptocurrency had been confiscated.
AlphaBay's alleged founder and administrator, Canadian citizen 25-year-old Alexandre Cazes, was detained in Thailand on 5 July and later took his own life while in custody, authorities said.
At the same time, Dutch police grasped control of Hansa and managed it for a month, scooping up vendor and customer details. Roughly 10,000 foreign addresses of Hansa market buyers and delivery addresses for a large number of orders were passed to Europol.
Now, posters on Reddit are concerned other hidden services have also been compromised. It turned out that after AlphaBay went offline a slew of vendors migrated to Hansa – directly into the embrace of the police. More arrests will be soon announced, Europol teased.
"The cryptomarket community [is] spooked," darknet researcher Patrick Shortis, of Brunel University in London, told the Associated Press (AP). "Reddit boards are filled with users asking questions about their orders," he added.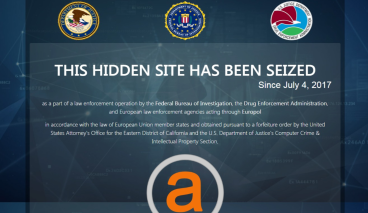 One user that has repeatedly been cited is known as /u/luckyduckquack, who seemingly predicted the downfall of the dark web markets 10 days before it happened.
"I have it on good authority that Hansa market was part of the wide-scale darknet sweep conducted by law enforcement," he wrote.
An updated post, published on 20 July, has explicitly warned about Dream.
"Dream has been under the control of law enforcement for some time now," the post read. Within the next couple of weeks you will see a seizure notice. They are waiting to gather as many refugees from AB & Hansa as they can and then drop the hammer."
It remains to be seen if the information is again proven correct, but the law enforcement operation which spanned 37 countries will undoubtedly continue to rumble on.
"By acting together on a global basis the law enforcement community has sent a clear message that we have the means to identify criminality and strike back, even in areas of the dark web. There are more of these operations to come," said Europol's director Rob Wainwright.