Duterte's drug war: Cyberattackers crash website for reporting Philippines killings
The website was offline for roughly 10 hours following threats to the publication
The website of the Philippine Centre for Investigative Journalism (PCIJ) was taken offline by a cyberattack on 29 July after being reportedly targeted for ongoing coverage of the Duterte administration's war on drugs.
The PCIJ first notified readers from its social media accounts that hackers had successfully disrupted the websites and revealed threats had been made towards the organisation and its journalists. "There has been an attack on our websites, www.pcij.org and www.pcij.org/blog," it said in a statement. "This is the reason why our sites are not accessible at this time.
"The attack follows the publication of PCIJ reports on the drug war of the Duterte administration, and our Know Your Rights advisories for citizens. A phrase with explicit curse and threat has been written by the attackers into our stories. We hope to go back online shortly."
For roughly 10 hours, the website was offline and displaying a 404-error page to anyone who visited the domain. At about 1pm BST, nine hours after the attack was launched, the homepage was intermittently restored.
Since taking office on 30 June this year, President Rodrigo Duterte, 71, has waged an unprecedented war on drugs in the Philippines, defined by a spiking death rate in the country.
In one speech on 1 July in Manila, the capital city of the Philippines, he launched into a vicious tirade against drug traffickers – also dubbed "pushers" – and made shock headlines after condoning the killing of anyone found to be using illegal narcotics.
"These sons of whores are destroying our children," he told the audience of roughly 500 people. "I warn you, don't go into that, even if you're a policeman, because I will really kill you. If you know of any addicts, go ahead and kill them yourself as getting their parents to do it would be too painful."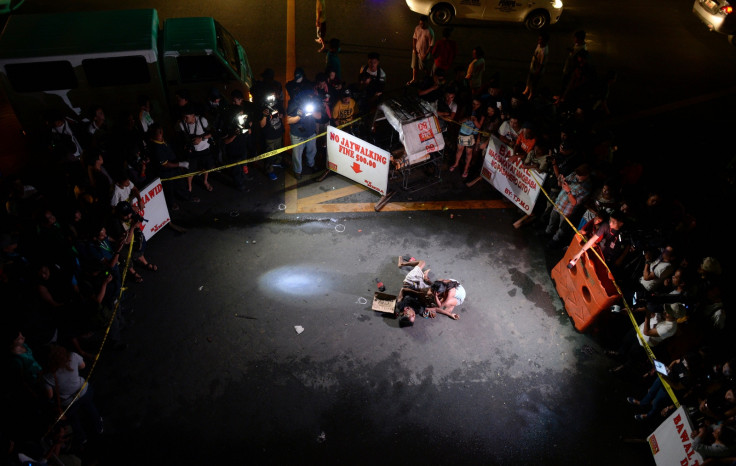 As previously reported, there are now, on average, 10 people killed every day in drug-related incidents in the Philippines. Since the beginning of the anti-drug campaign 3,600 drugs offenders have been arrested and 120,000 reported drug offenders voluntarily surrendered.
The PCIJ, which is an independent non-profit media agency, has been extensively covering the deaths as the statistics have spiralled. It has released a number of stories investigating Duterte, focusing heavily on recent drug dealer deaths. On its homepage, the PCIJ has dedicated a number of stories to the topic.
Its last feature article, filed on 26 July, noted "bodies are piling up" as a result of Duterte's drug rhetoric and charted the troubles human rights organisations in the country now face while attempting to keep up with the mounting death toll.
The website, and its blog section, have now been restored. In a statement issued on Twitter, the PCIJ stated: "We're back online, thanks to our Techies! We pledge to continue to do our job well, and tell it like it is, no matter who, no matter what."
Social media users condemned the cyberattack online. "Clearly, with the attack on @PCIJdotOrg, advocacy sites are targets," wrote one user. Another said: "If Duterte's drug war is working so well in the Philippines, why not let journalists discuss its facts in detail?"
© Copyright IBTimes 2023. All rights reserved.