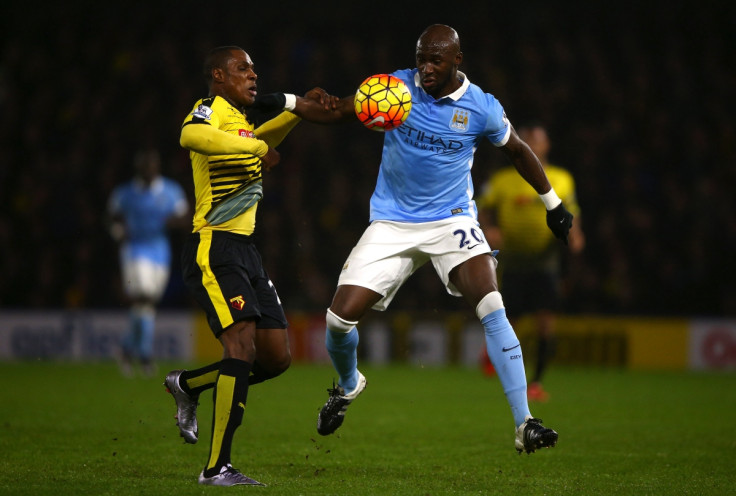 Eliaquim Mangala is fit to face Dynamo Kiev in Manchester City's Champions League tomorrow night (24 February). The 25-year-old defender has been sidelined with a hamstring injury in recent weeks, but he is now ready to face Kiev at the Olimpiyskiy National Sports Complex.
City manager Manuel Pellegrini faced a storm of criticism at the weekend, when he opted to rest a raft of first-team players ahead of their Champions League last-16 clash. The Chilean has revealed he will have largely the same squad at his disposal for their latest match, with Managala being the one notable addition.
"We have a similar squad that played in the last game against Chelsea, the only player to recover was Mangala," the City manager said during a pre-match press conference in Kiev. "We had to make a difficult decision against Chelsea but it was the only choice we could make at the moment. We had just 13 players so it was our intention to continue in all competitions and we couldn't do that.
"This is absolutely different – we will try to continue knowing we have a difficult game tomorrow. The important thing is the performance of our important players tomorrow. It's the first 90 minutes of a 180-minute match, no matter what happens, it's not over tomorrow."
Pellegrini was joined at the press conference by Pablo Zabaleta, and the Argentine revealed his determination to win the Champions League with City. "I know we're coming in from a big defeat but now we're 100% motivated for tomorrow. Hopefully we can play well enough to get a good result," the City defender said following their 5-1 loss to Chelsea in the FA Cup.
"We've played a lot of games in January and February but I think that tomorrow we will see players who've had a rest last weekend. Physically and mentally we must be fresh for tomorrow and play at 100%," he continued.
"We know we've been playing against the best teams in Europe. In the last four years we've been learning a lot about the way you must play in these games."
The City defender added: "We played the best team in the world [Barcelona] at this stage for the last two years – I'm not going to say that tomorrow is going to be easy, [Kiev] have the mentality to play in these types of games as they've played in this competition before many times."