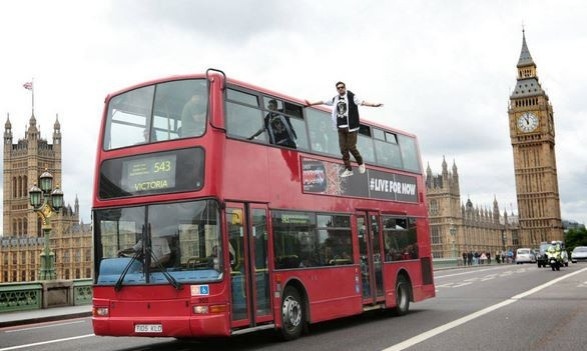 Magician Dynamo stunned onlookers as he traveled across Westminster Bridge with one hand placed on top of the red double-decker bus. Passengers, who were travelling in the bus looked on in amazement and took pictures of the entertainer, as he was dangling in mid air.
The Bradford-born illusionist, whose real name is Stephen Frayne, was performing a publicity stunt for soft drinks brand, Pepsi Max. The people traveling on 543 London bus, were all part of the act too.
"This is one of the most exciting things I've ever attempted," he said, "My partnership with Pepsi MAX is all about living for now and nothing explains this better than by taking one of London's most iconic modes of transport and putting a different spin on the journey. The reaction of the public as I was travelling was incredible and it was great to see so many people taking in the excitement."
Earlier this week, Frayne "frightened" Prince Charles with his trick at a Clarence House reception for his youth charity, the Prince's Trust. The Prince of Wales covered his face, as the 30-year-old bent his fingers into an unnatural position.
"He said 'It must take years and years to perfect that stuff, it really is magic'. He was saying 'Your hands are really flexible, even with the shuffling'," he said, "I said 'Yes - look how flexible they are', and then I broke my fingers and put them back together again."
In 2011, Frayne "walked" on water across the River Thames - a stunt filmed for his television show, Dynamo: Magician Impossible.