Dyson has announced the Airblade tap, a conventional stainless steel tap with a hand dryer on either side capable of drying hands in 12 seconds, while costing substantially less than a paper towel dispenser.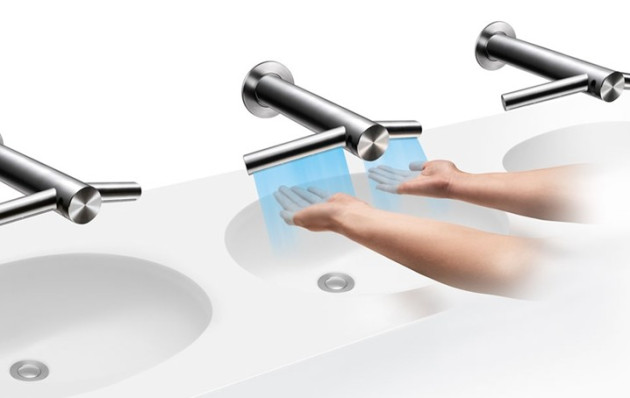 Powered by one of the world's smallest integrated 1600W motors, the Airblade tap can pump out 30 litres of air per second at 430mph, thanks to a fan spinning 90,000 times each minute.
Inventor and company founder Sir James Dyson said: "In washrooms using conventional taps, you'll need to move to a separate hand drying area, dripping water on the floors as you go. It's why we've developed a tap with our hand drying technology in it."
While reducing spilt water is one benefit of the Airblade tap, businesses will be most interested in its cost-saving efficiency, as Dyson claims the tap costs £48 per year to run, compared with an average price of £1,460 per year for a traditional paper towel dispenser.
The cost saving means the tap can dry the hands of 15 people for the same price of a single paper towel.
In an effort to by hygienic users need never touch the tap, as water flow and drying are both controlled by two sensors recognising hand movement.
The temperature of the water will be set by the person installing the tap and won't be user-controlable. We asked Dyson if it's possible to change the temperature after the tap is installed and we are waiting to hear back from Dyson.
Dyson recently published a teaser video of the tap to drum up anticipation, providing clues of what the product would be and stating that it is the culmination of three years work from 125 Dyson engineers and £40m investment.
Sir James added: "Using laser cutting technologies to manipulate marine grade steel, Dyson engineers have created an intuitive, high performance tap. Two branches channel high velocity air to literally scrape water from hands and into the sink - not the floor."
Much of the Airblade tap - including its V4 digital motor and HEPA filter to remove bacteria from surrounding air - is hidden beneath the sink, leaving just the stainless steel tap and drying arms on display.
Blasting air at 430mph is a noisy business, so in development Dyson simulated more than 200 million hand washers to help develop six silencers to eliminate noise.
The Airblade tap will be available in three versions, all going on sale on 1 March and costing from £999, but the upfront cost will soon be made back with the savings compared to conventional hand dryers.
Dyson's new 1600W motor is now also available in the Airblade Mk2 and the compact Airblade V, both of which have been redesigned and claim to dry hands in 10 seconds, compared to 43 seconds with a regular hand dryer.
The Airblade V is 60 percent smaller than the previous generation, and the larger Airblade Mk 2 is 1.1kg lighter than before. The Airblade V is priced from £500 and the Airblade Mk2 will sell for £650 in plastic and £800 in aluminium.