Eagle makes record-breaking flight from world's tallest building in Dubai
Eagle makes dramatic flight to highlight the plight of the endangered birds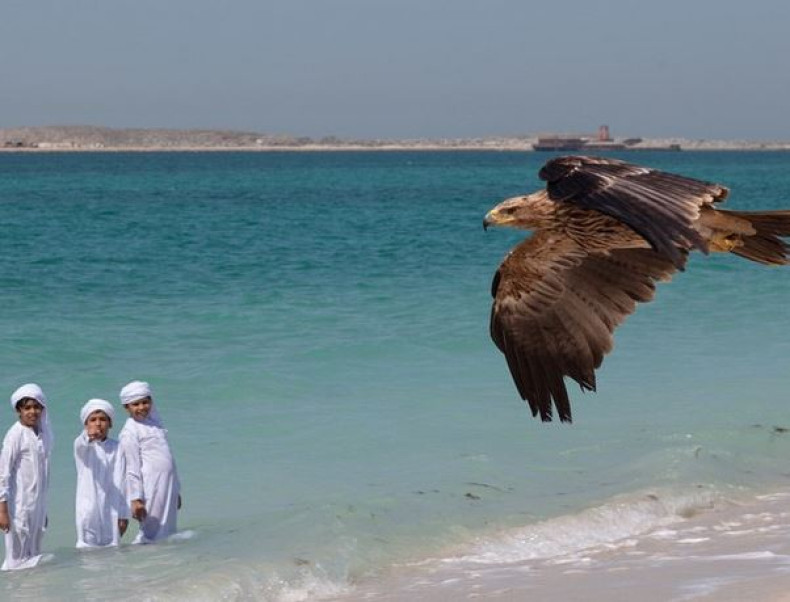 An eagle made a record-breaking flight in Dubai on Saturday (14 March), as part of an initiative highlighting the plight of the endangered birds.
Darshan the eagle took off from the top of the tallest building in the world – the 829.8m Burj Khalifa – carrying a 300g micro-camera, to film his five-minute long flight.
"Darshan is a male Imperial Eagle with a wingspan of two metres," said his trainer and the founder of the Freedom Conservation organisation, Jazques-Olivier Travers, according to Gulf News. "He is a very powerful bird, which is necessary as he is donning a 300g camera on his back."
As well as providing spectacular views to the crowds assembled around TV screens below, the stunt was designed to raise awareness of endangered birds of prey and reintroducing them into their natural habitat.
The group has also filmed eagles flying from landmarks such as St Paul's Cathedral in London and the Eiffel Tower in Paris.
"Darshan was also the eagle who flew at our London event," Travers said, "but both those other projects were from altitudes of around 300m. The flight from Burj Khalifa was a totally different ambition."
Freedom Conservation has reintroduced White-Tail eagles into the wild, and is now trying to raise awareness of Imperial Eagles. Travers estimates it will take around two years for this latest project to succeed.
"This eagle is a signal that things can change. It was once endangered, but after conservation programmes it is not so endangered," Freedom Conservation director Richard Menzel told BBC News, which broadcast the flight live via video stream.