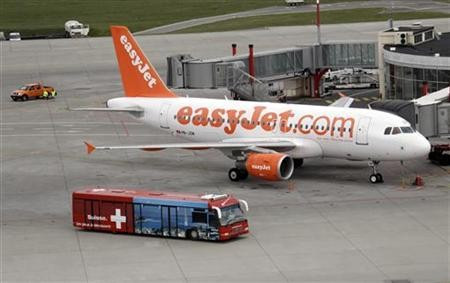 Budget airline easyJet has narrowed its first half loss on strong flight bookings from customers in Britain and Northern Europe towards the run up to Easter irrespective of the adverse weather in the region.
Europe's second-largest discount carrier said it currently expects a pre-tax loss between £60m and £65m for the first half ended on 31 March, compared with its earlier view between £50m ($76m, €59m) and £75m. In the year-ago period, the company recorded a loss of £112m.
"First half losses have been halved year on year through our disciplined approach to capacity deployment and a focus on cost management over winter," CEO Carolyn McCall said in a statement.
"We have also benefited from rival airlines taking winter capacity out of the market, the earlier timing of Easter compared to last year and the poor weather across the UK and northern Europe which stimulated strong bookings in the last few weeks of the first half of the financial year".
Despite the improvement on a year-on-year basis, the company shares lost more than 5 percent in morning trade as the outlook was broadly in line with its previous projections. They are trading at 1,044 pence, down 4.8 percent, as at 10.04 am.
The half-year result is expected to be affected by a £30m to £35m charge due to the weakening of sterling against the euro, the US dollar and the Swiss franc and an about £5m adverse impact from changes in the fuel price.
For the first half, revenue per seat is expected to be up by 8.5 percent, compared to earlier outlook for a growth between 6 percent and 8 percent. The improvement in the outlook was driven by stronger than anticipated late bookings in the run up to Easter, the company said.
The airline boarded 4.9 million passengers in March, up 5.3 percent year-on-year, as it began flights between Moscow and London, as well as from Milan to Rome's Fiumicino airport. Load factor, a measure of the amount of utilisation of the total available capacity, improved 1.7 percentage points to 90.5 percent in March.
Cost per seat excluding fuel would be up by 3.5 percent, compared to earlier projections for cost increase between 3.5 percent and 4.5 percent.
Nevertheless, the company lowered its capacity growth outlook to 3.3 percent from 3.5 percent, citing higher than anticipated level of cancellations due to adverse weather conditions.
Easyjet has been boosting flight frequencies on key routes and using allocated seating, flexible tickets and corporate agents to generate better business.
The company added that its fleet evaluation process is going on and has decided to exercise options for three Airbus A320 aircraft.