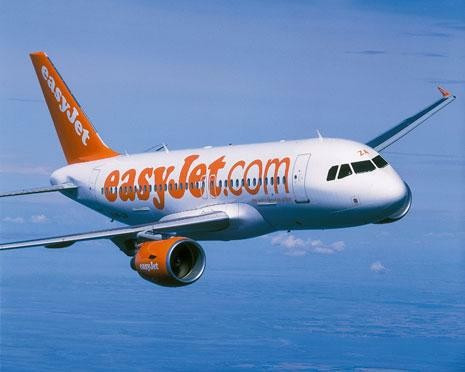 Shares in easyJet took off on the FTSE 250 in morning trading after the budget airline reported a rise in passengers and higher profit expectations despite strikes and Icelandic volcanoes.
Passenger numbers in September were reported as being up eight per cent from the same month last year to 4,774,991.
Load factor, which shows the percentage of seats booked to those available, rose 1.2 per cent to 89.3 per cent.
In the 12 months to September passenger numbers rose 7.9 per cent to 48,754,366. Load factor also increased by 1.5 per cent to 87.0 pence per share.
The group said that its commercial performance continued to be "robust" and that its total revenue per seat for the three months to the end of September was expected to be six per cent higher than in the same period last year.
The rise was attributed to strong sales in the United Kingdom to European beach and city destinations.
EasyJet said that it expected the impact of the Eyjafjalla volcanic eruption earlier this year to cost it around £60 million pounds, down from the £65 million originally forecast.
Strike action in France, Spain and Greece by Air Traffic Controllers is also expected to cost easyJet as much as six million pounds in compensation to customers.
Despite this, easyJet said it expected pre-tax profit for the full year to 30 September to be above £150 million, up from the previous forecast of £100 million to £150 million.
Carolyn McCall, Chief Executive of easyJet, said, "This robust financial performance in a tough trading environment is a tribute to easyJet's unique blend of the lowest prices to the most convenient airports. I'd like to thank the whole team at easyJet for their commitment and hard work over what has been a very tough year in the airline industry.
"The significant disruption caused to millions of passengers across Europe, however, demonstrates the urgent need for European governments and the European Commission to modernise Europe's outdated system of air traffic control providers and to end the ongoing strike action."
By 10:55 shares in easyJet were up 9.33 per cent on the FTSE 250 to 423.00 pence per share.