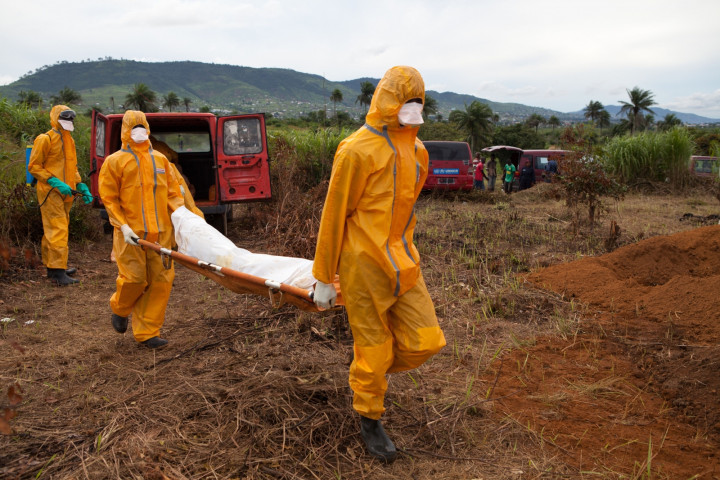 Workers who are burying Ebola victims in Sierra Leone have gone on strike over the non-payment of their weekly risk allowances.
The Ebola virus is extremely contagious and remains active in the corpses of victims, as it is transmitted via contact with infected blood, bodily fluids or organs. Because of this, only specialised teams are allowed to dispose of the bodies.
Grave diggers, who cover the capital Freetown, have been burying between 17 and 35 bodies each day. Teams have around 12 members who earn around $100 (£62) each per week.
Tamba Nyandemoh, one of the workers, told Reuters: "We have decided to stop working until they pay us our weekly risk allowance."
He added that they have not been paid for two weeks.
Sierra Leone Deputy Health Minister Madina Rahman said teams have been paid up until to the end of September and are only owed money from the beginning of this month. She said the wages will be paid this week, but did not comment on the demand for risk pay.
The strike has sparked fears that the outbreak could worsen in the country, which saw 121 deaths in a single day last week.
Without the grave workers, infected bodies will be left in the street, increasing the risk of the virus spreading.
The World Health Organization recently voiced concern over the "unprecedented" number of healthcare worker deaths in the outbreak. Across West Africa, over 120 aid workers have died and many more have been infected.
William Seo Lamin, a member of the NGO Health Alert Sierra Leone, told Euronews that since May there had been over 60 deaths among public health workers in Sierra Leone.
"I think that is very serious, it's really discouraging, and more has to be done if we are to reduce the number. But I will tell you for free, the number is going to rise."
The Ebola outbreak, the worst since the virus was discovered in 1976, has killed over 3,400 and infected over 7,400. The majority of cases and deaths are in West Africa, but cases have been recorded in the United States and Spain.
This week it was reported that a Spanish nurse, named as Teresa Romero Ramos, is the first patient to become infected outside of Africa.
She had been part of a 30-member team at the Carlos III Hospital, treating the Africa-based missionaries Manuel Garcia Viejo and Miguel Pajares. Ramos is said to have caught Ebola because she did not have an adequate protective suit.