The first full-scale genomic analysis of the Ebola virus has been performed. Researchers analysed the make-up of the virus from cases in Liberia, to understand how Ebola moved between neighbouring countries, and how it adapted within the human host.
The study, published in Cell Host And Microbe, can be used to help efforts in preventing further outbreaks of the Ebola virus, and also in controlling the spread of the disease.
It was discovered – rather surprisingly – that there was not much evidence to suggest the virus adapted to the human host, say researchers from the US Army Medical Research Institute of Infectious Diseases. Researcher Gustavo Palacios did not expect to see this conclusion.
"The scope of this outbreak has provided an unprecedented opportunity for Ebola virus to evolve within the human host," he said. "We also wanted to explore the genetic changes occurring in the virus during the outbreak to see whether we could detect signatures of adaptation. This would allow a better understanding of the dynamics of the interaction between the Ebola virus and humans."
The study found most of the Ebola cases in Liberia came from a single introduction of the virus and then rapidly spread. That means to say that there was only one major source of the virus, with small additions through time – similar to a river heading down a mountain toward the open ocean, aided by smaller tributaries on the way to make it bigger and wider.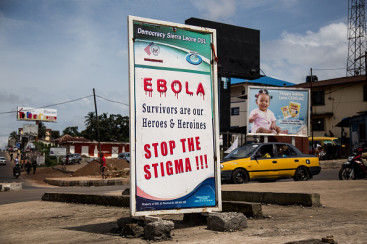 Scientists came to their conclusion by analysing 140 new Ebola genome sequences from Liberia and combining that research with 782 previously investigated sequences from throughout the whole of West Africa. Some genome sequences from both Sierra Leone and Guinea were included but the main objective of the report was to investigate Liberia, and then build a bigger understanding from there.
This is the first study that investigated the entire virus genome sequences from one of the three countries worst affected by Ebola in 2014. It is also the first to cover the Ebola outbreak from beginning to end, and also to combine variations from Liberia, Sierra Leone and Guinea.
"Over the next few months we will be combining forces with other research groups to look carefully at the commonalities and differences of Ebola virus spread and diversification within and between these three countries," said lead researcher Jason Ladner. "This analysis should help to shed light on the most successful approaches for controlling the spread of the virus."
The Ebola virus is responsible for over 11,000 reported deaths. It is believed there are over 28,000 cases of Ebola to date, including the reported and suspected cases, says the World Health Organization.