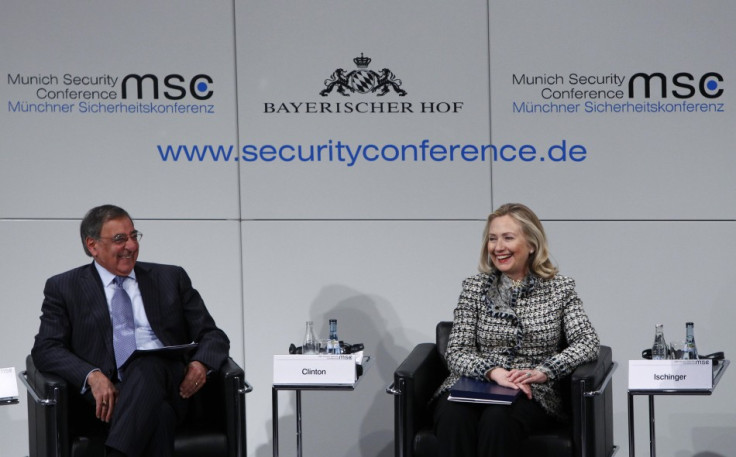 Speaking at the 48th Munich Security Conference in Germany, on Saturday, U.S. Secretary of State, Hillary Clinton, said Europe and Washington D.C. must work together to recover from the ongoing crisis and reassured European nations the U.S. would not turn away from the continent. The last point comes in the wake of U.S. President Barack Obama's focus on Asia.
Clinton also insisted the two regions - the U.S. and the EU - must send a clear message to tyrants, demanding they respect the rights of their people. Her comments came against the backdrop of violence in the Middle Eastern nation of Syria and ahead of an expected vote on a United Nations Security Council (UNSC) vote on the Syria issue, later on the same day.
"As a tyrant in Damascus brutalises his own people, America and Europe stand shoulder to shoulder. We are united, alongside the Arab League, in demanding an end to the bloodshed and a democratic future for Syria," an Associated Press report quoted her as saying
"We are confident that Europe has the will and the means to cut its debt, build the necessary firewalls, create growth, and restore liquidity and market confidence," she added.
However, the Secretary of State did add a note of caution.
"As Europe emerges from crisis, we have to work harder to reinforce each other's recoveries. As deep as our economic relationship is, it has not yet lived up to its potential," she said, adding the two regions also needed to fight unfair trade practices.
Meanwhile, the U.S. Defense Secretary, Leon Panetta, who was also in Munich, said the European region remained the U.S.'s security partner of choice for military operations and diplomacy around the world. He also said Europe would continue to be a central point of interest for U.S. defense forces, even as the country's administration withdrew two of the four Army brigades stationed on the continent.
He later remarked the brigades would be balanced with smaller units that could rotate around the continent, for temporary training assignments, in order to counter perceptions the U.S. partnership with Europe was weakening.
"In all, the steps Europe can expect from the United States amount to a vote of confidence from Washington in the future of the alliance, especially in a period of fiscal austerity," Panetta added.
Finally, the Defense Secretary also noted the U.S. military would have a larger presence in Europe than any other region of the world.