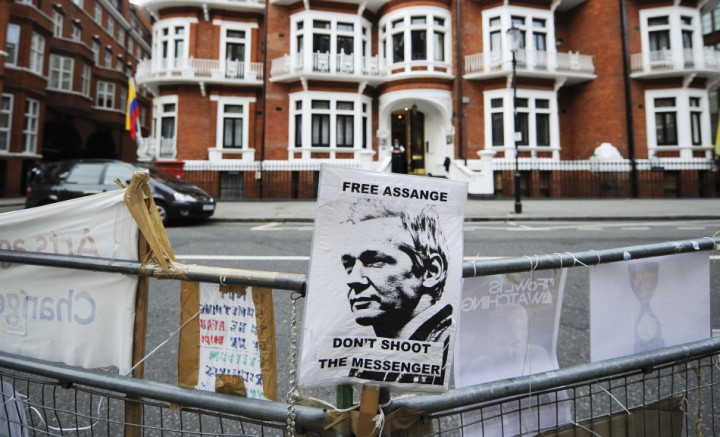 Britain and Ecuador are in a diplomatic tussle over political asylum for Wikileaks founder Julian Assange.
As soon as Ecuador granted asylum for the 42-year-old Australian, the Foreign Office made it clear that he will not be given safe passage.
"We will not allow Mr Assange safe passage out of the UK, nor is there any legal basis for us to do so. The UK does not accept the principle of diplomatic asylum," Foreign Secretary William Hague told a news conference.
Hague said the British government was determined to carry out the extradition procedure and insisted that political asylum should not become a means to escape regular court process.
He said the South American country's decision to grant political asylum to Assange was a matter of regret; the move was hailed by the Wikileaks founder as a significant and historic victory.
Responding to that, Ecuador's Foreign Minister Ricardo Patino said his government will hold talks with its British counterparts to overcome the situation.
Patino told the BBC: "We don't think it is reasonable that, after a sovereign government has made the decision of granting political asylum, a citizen is forced to live in an embassy for a long period."
He also threatened to use the alternatives under international law to demand safe passage for Assange.
Earlier, Patino told a news conference: "We cannot believe they have been honest with this position. The UK is basically saying if you don't behave we will beat you savagely. I'm going to hit you hard, but if you behave I might not."
Hague confirmed that the British police would not storm the Ecuadorian embassy in London which has been sheltering Assange for the last two months.
"There is no threat here to storm an embassy. We are talking about an Act of Parliament in this country which stresses that it must be used in full conformity with international law," said Hague.
The government in Sweden, where Assange faces sexual assault charges, has summoned Ecuador's ambassador saying the asylum was unacceptable.