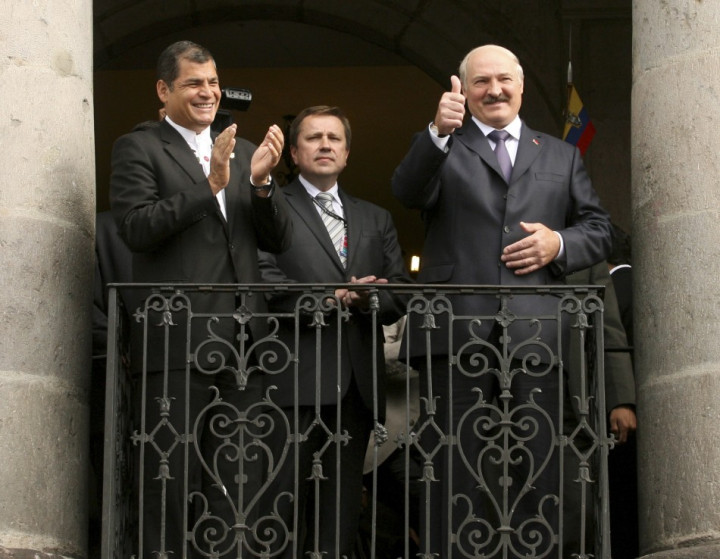 Ecuador has rejected an extradition request for a former police investigator from Belarus two weeks after granting political asylum to WikiLeaks founder Julian Assange.
Judge Carlos Ramirez, of the National Court of Justice in Quito, found the political refugee status granted to Aliaksandr Barankov to be justified.
Barankov, 30, who is wanted by the Belarusian regime led by President Alexander Lukashenko, dubbed "Europe's last dictator", claimed to possess incriminating information on a corruption network involving high officials in his homeland.
In several posts on his blog, Barankov disclosed an oil-smuggling ring created by relatives of Lukashenko, who has been in power for the past 18 years and has imposed significant restrictions on freedom of speech and political dissension.
Although he was granted political asylum in 2010, Barankov was arrested in June ahead of an official visit by Lukashenko, who sought to strengthen ties between the two nations.
The extradition request, issued on 7 June, accused him of fraud and extortion and several human rights activists predicted his imminent departure.
However, after Ecuador granted Assange asylum, citing genuine fears over his safety and security if he were to be extradited to the US, many accused President Rafael Correa of hypocrisy and applying double standards to asylum cases.
Correa said he would not comment on the Barankov case until the court issued its verdict. However, his deputy foreign minister has consistently promised the government will view the case in the same light as Assange's.
Fernando Lara, Barankov's attorney, said while he welcomed the ruling it came "82 days late" because his client should never have been jailed.