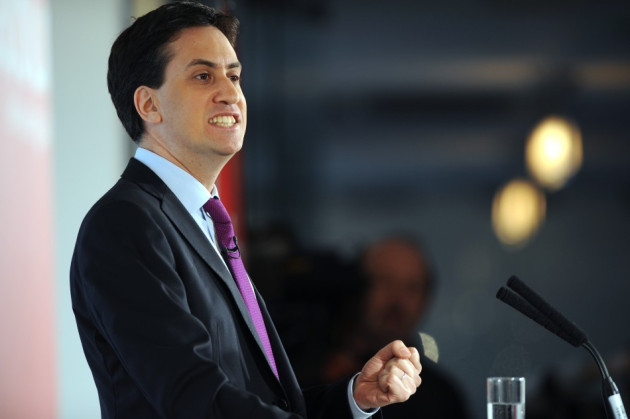 Labour leader Ed Miliband set out plans for a "root and branch" banking reform to put an end to the dominance of the 'big five' banking groups and stamp out "casino" tactics.
In a speech to be made at the London headquarters of the Co-operative bank, Miliband called for the big five to sell up to 400 branches to increase competition.
Miliband's announcement included attacks on the bonus culture, as Labour looks to capitalise on the furore of the Barclays libor scandal.
His speech coincides with the Bank of England's deputy governor being questioned by the Treasury select committee over the scandal.
Miliband said: " The revelations of the last two weeks have shown precisely what has gone wrong with our economy in the last decades and the test of whether we can change things now starts with our banks.
"Last September I said to the Labour party conference that Britain needed a different kind of economy. An economy based not on the short-term, fast buck, take-what-you-can culture we see too much of in our banks today. But on long-termism, patient investment, and responsibility shared by all.
"Today I am going to tell you what a better banking system would look like. I will describe the first steps towards moving from the casino banking we have to the stewardship banking we need.
"It will mean root-and-branch change for our banks if we are to deliver real change for Britain, if we are to rebuild our economy so it works for working people, and if we are to restore trust in a sector of our economy worth billions of pounds and hundreds of thousands of jobs to our country."
Miliband called on the big five of Barclays, HBOS, HSBC, Lloyds TSB and RBS, to be forced to sell as many as 400 branches, Lloyds is currently in the process of selling 650 branches to the Co-operative.
Miliband claims the sales would allow new private sector run "challenger banks" to give customers a better option.
He said that he forsaw a banking system that was "not just an industry that serves itself, but that has a fundamental duty to serve the real economy".
He called for no single bank to be "too big to fail and too powerful to be challenged" and for the term of "banker" to return to being a compliment, rather than an insult.
Miliband criticised the business secretary Vince Cable's plans to grant shareholders binding votes on pay packages every three years, claiming that annual votes should be in place.
He also said that the party would be setting out the case for a British investment bank, to allow the government to guarantee loans to small businesses.
"British business needs to stop acting with one hand tied behind its back," he said, before claiming that the British investment bank represents "a key institution in re-shaping the banking sector in this country".
Calling for stronger legal action on white-collar crime, he added: "We need to strike off those whose conduct lets us down and prosecute those who break the law."
Miliband admitted that Labour must take its share of the blame for letting the banks get into this state, but stressed that the party had "learned its lessons", while the coalition government has failed to rise to the challenge of reforming the banking system.