Ed Miliband's leadership of the Labour Party has been bolstered by a string of victories in English, Scottish and Welsh local elections, as the coalition government is left battered and bruised by the loss of hundreds of councillors across the UK.
Labour won several hundred council seats and took political control of more of the UK's cities, such as Birmingham, Norwich, and Southampton, as well as staving off a strong challenge from the Scottish Nationalist Party (SNP) in Scotland and grabbing hold of Welsh councils.
"More people put their faith in us than the elections a year ago and I'm pleased that they've done that, but I know that we've got more work to do to convince those that didn't vote for us that we can change Britain for them," Miliband said outside his home in north London.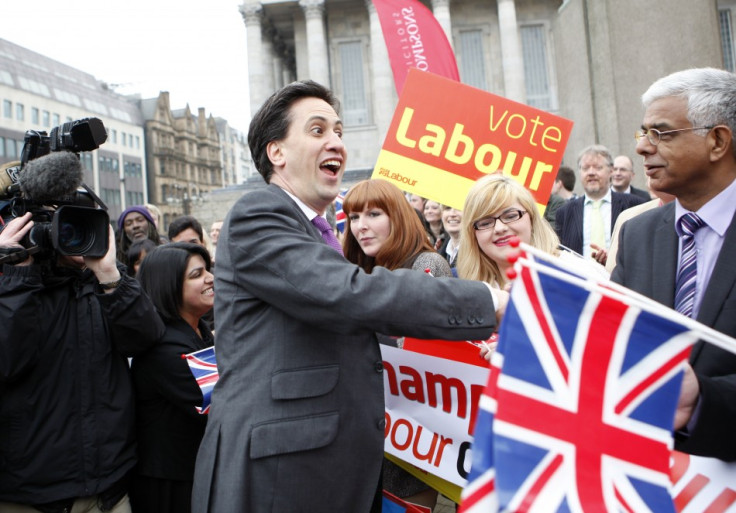 The party took a number Welsh councils including Wrexham, Swansea, and Cardiff and made gains in Scotland.
Early indications suggested it had gained seats in the key city of Glasgow, a battleground with the SNP after Labour lost control of the council in March after a councillor resigned. It is too early to tell if it has been able to grab power from no overall control.
Labour gained Renfrewshire and West Dunbartonshire in Scotland from no overall control. The SNP lost seats.
The Conservatives and Lib Dems have lost control of 11 councils and waved goodbye to 600 councillors across the UK.
Conservatives lost control of Harlow, Southampton, Plymouth, and Dudley to Labour.
Lib Dems lost control of Cambridge council, which it had held since 2000.
David Cameron played down the losses saying they were to be expected when the government was "taking tough decisions" in trying to get the economy on track and the public budget deficit (which he again blamed on Labour) down.
Ed Miliband's big test
In recent weeks the Labour leader has perked up in the polls, but for a long time Miliband and his party were trailing Cameron and the Conservatives.
Some Labour activists were beginning to question Miliband's leadership and doubted his ability to guide the party to electoral success, fearing his awkward and geeky persona was a turn-off for voters and that he lacked the clout to land big hits on the coalition.
However, Labour's local elections sweep have renewed confidence in him among Labour supporters.
Given the widely unpopular austerity programme being pursued by the coalition government and a weak economy that has just re-entered recession, Miliband was expected by his party to do well in mid-term elections.
He also helped hold off an embarrassing defeat in Scotland where his party faces stiff opposition from the SNP, who have already snatched control of the Scottish parliament from Labour.
Had Miliband suffered defeats in these local elections, or not made as significant gains as he has, he could have found himself subject to a leadership challenge in the summer break as Labour scrambled to find a strong would-be prime minister in preparation for the next general election.
Boris Johnson and George Galloway
Despite widespread success across the local elections in the UK, Miliband still faces two setbacks.
Tory Boris Johnson succeeded in his attempt to once again be London mayor, defeating Labour's Ken Livingstone, who is seen by some in the party as an embarrassment.
In Bradford, the city where George Galloway and his Respect party recently ousted Labour in a parliamentary by-election, Labour lost control of the council.
Respect candidates won three seats from Labour and helped pull the council into no overall control status.
Galloway said his party offered a "viable alternative to the tweedledee, tweedledum, tweedledee-and-a-half politics that the three mainstream leaderships are offering them".